Bugatti automobiles
Jaap Braam Ruben's "Fine Automobiles" had the largest stand ever, presenting 8 very good Bugatti's. We start off with some overview shots, below.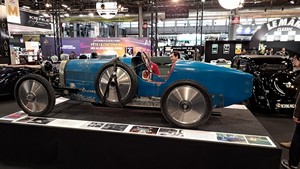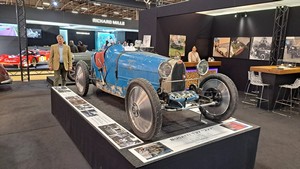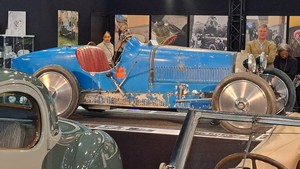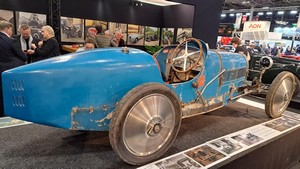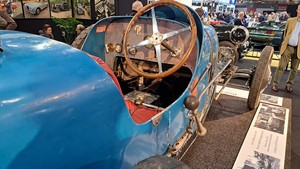 This very nice original Type 37 (37227) already had these wheel discs 95 years ago!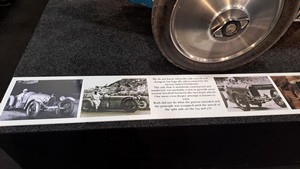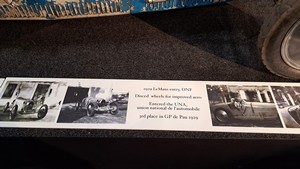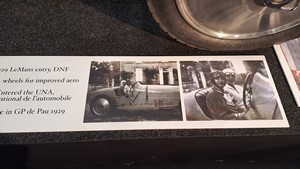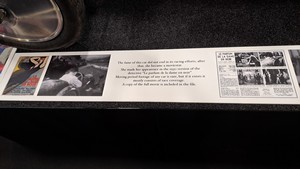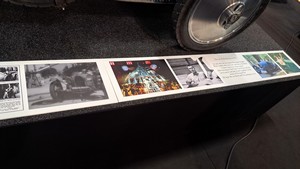 Info and period photographs surrounded the T37 above.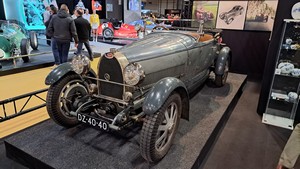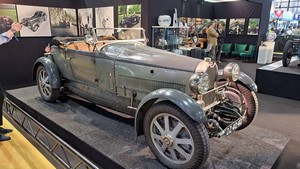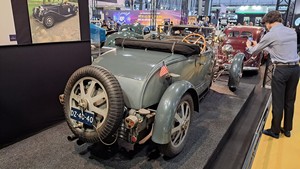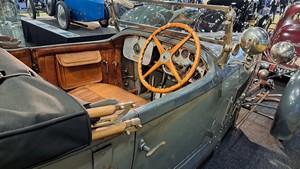 Very interesting Type 43A, 43309.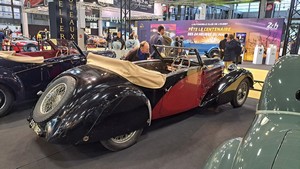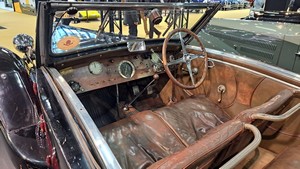 T57 Cabriolet Stelvio by Gangloff 1934 (57181) 209 DA 31 (F)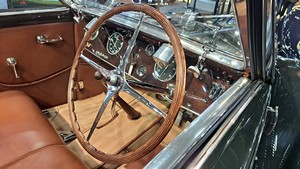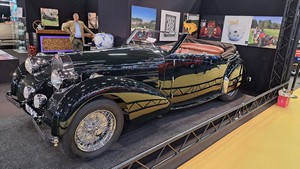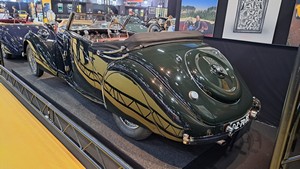 T57C Stelvio by Gangloff 1937 (57516) DZ-78-35 (NL)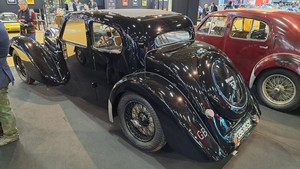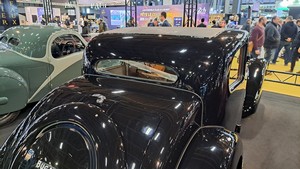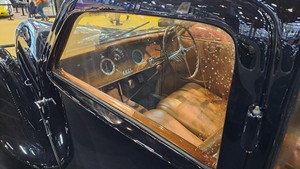 T57 Ventoux 1938 (57724) 8396 RG 62 (F)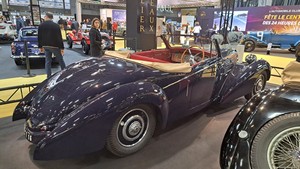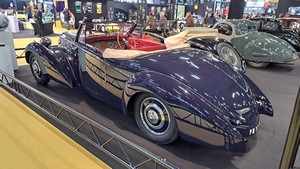 T57 Cabriolet Aravis by Letourneur & Marchand 1938 (57732) PM-27-16 (NL)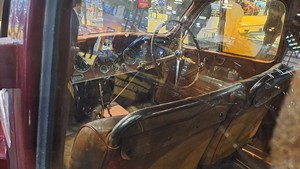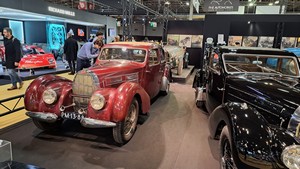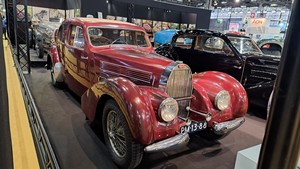 T57C Galibier 1939 (57795) PM-13-88 (NL)
Ivan Dutton shared some of it's exhibition space with the Bugatti Trust, and showed 4 cars plus a project on the stand, plus an unfinished project. Of the cars, only one was original, Elizabeth Junek's T35.
Below some overview shots.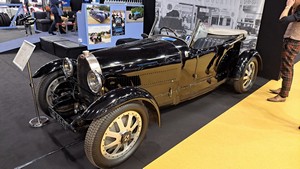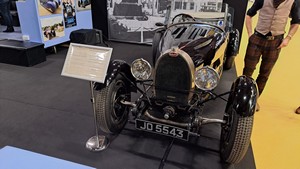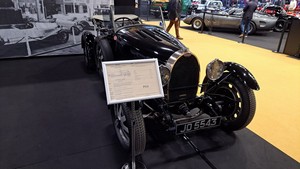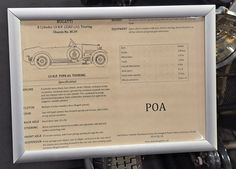 Nice Type 43 / 38. Modified T38 frame, with engine no. 88 off 43254. BC039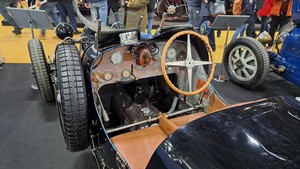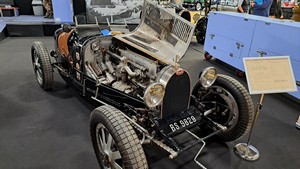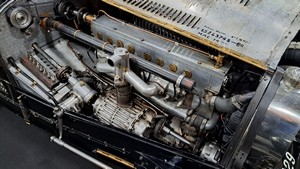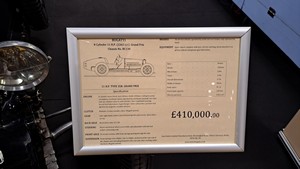 Replica T35B by Ivan Dutton, BC138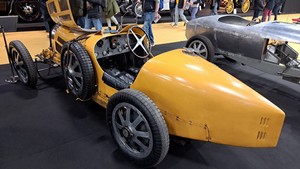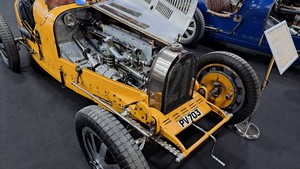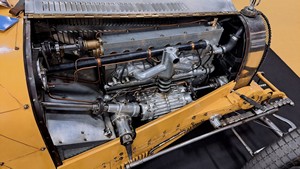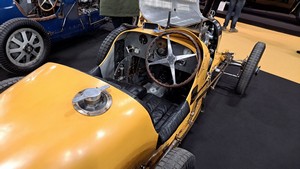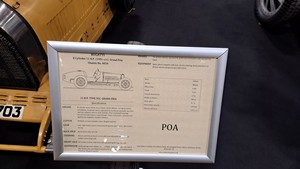 Elizabeth Juneks T35C, chassis 4059 / 4831
Chassis number 4059 was originally that of the Junek Type 32; it was then used for Junek's 4572 (for custons reasons), and then later for their 4831, for the same reason. To complicate matters, the number 4831 was re-used by the factory for 4572. Thanks to Uwe Zummach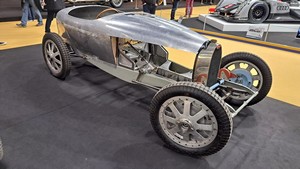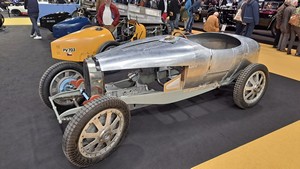 Project car, seems to be T35 with roadster body, with door on the passenger side.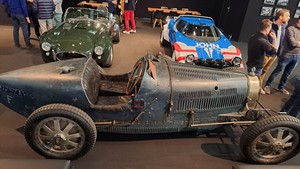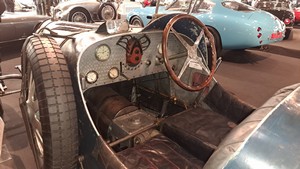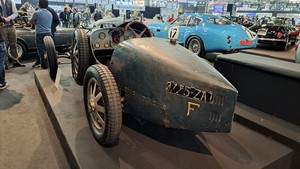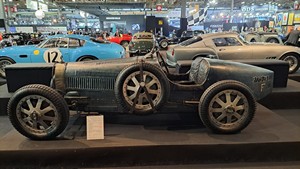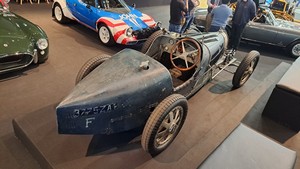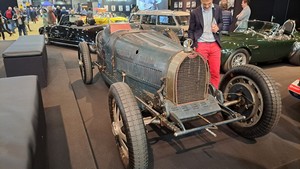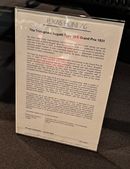 Another original T35C (chassis 4941), this time Trintignant's, presented at Lukas Huni.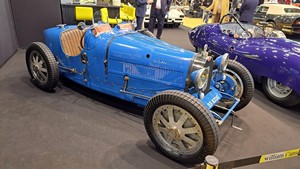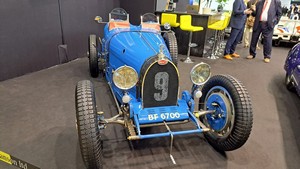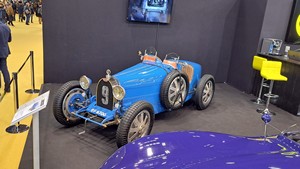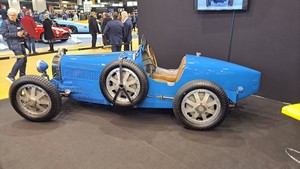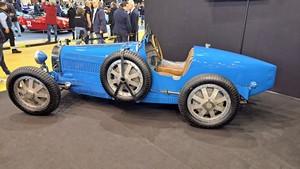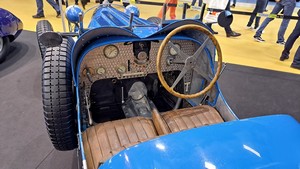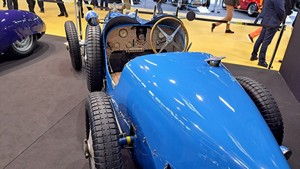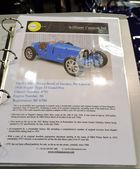 William i'Anson presented this T35(C), chassis 4791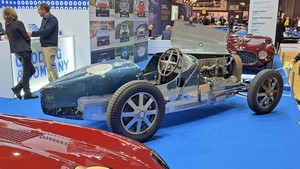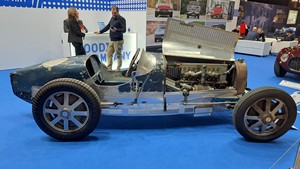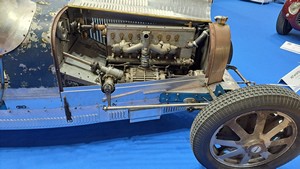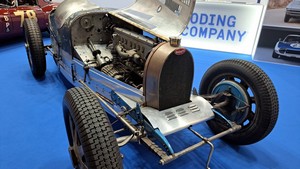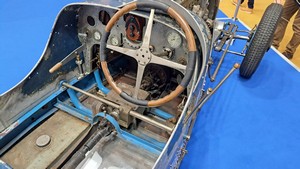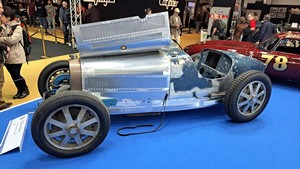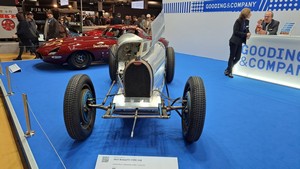 Gooding & Company showed this T35B project (chassis 4848), a lot still to be done!
Reducing the special Peter Stubberfield-built monoposto Bugatti (1948) to a "mere" regulare T35B - Shouldn't Bugattistes be glueing themselves to the Tarmac to present that from happening?
How Gooding dares to ask 2.4 million pounds for this in their private treaty sale remains another mistery...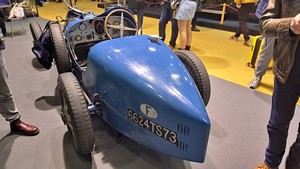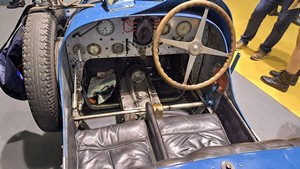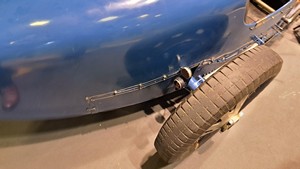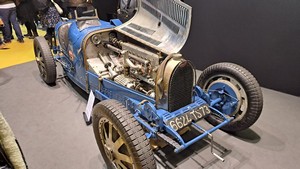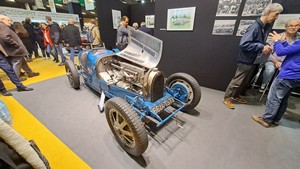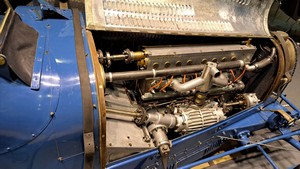 One more GP Bugatti, the 1928 T35C, chassis number 4881. This one at the French Bugatti Club stand.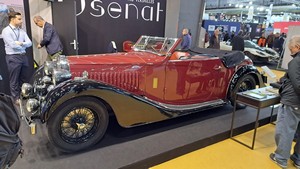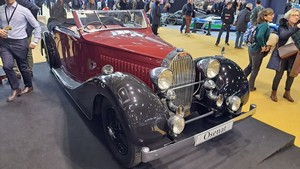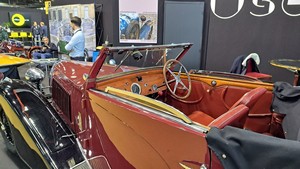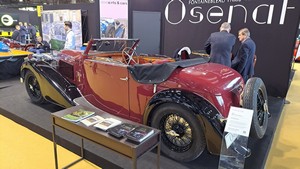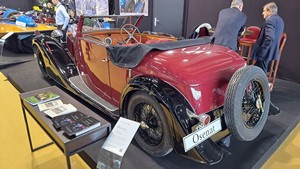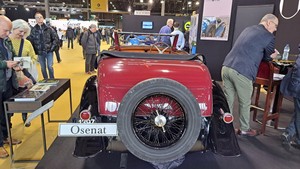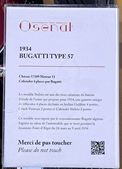 Osenat announced a very early T57 Stelvio, 57109. To be auctioned in March.
There were three Bugatti's at the Artcurial auction Auction results can be found here.
All Bugattis came from Dutch owners, we start here with the Atalante.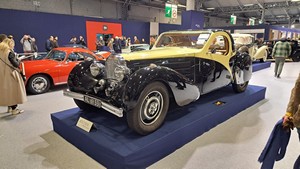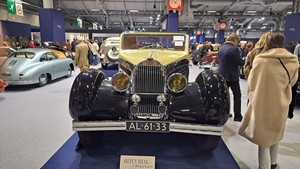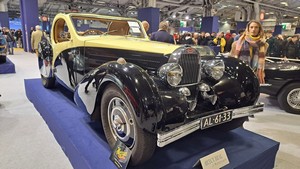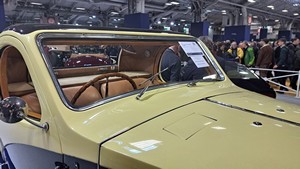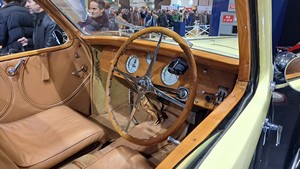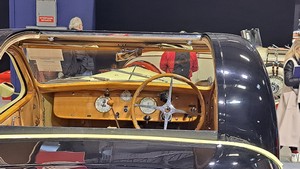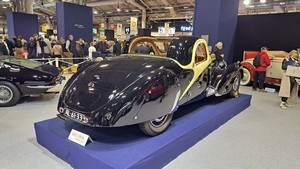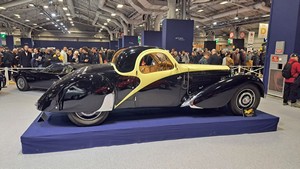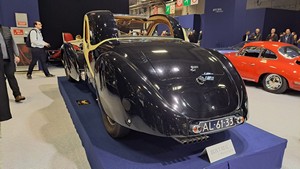 The wonderful Atalante découvrable, chassis number 57432.
Below, various shots from the Type 35C (4920) from the Bart Rosman collection. The car was expertly prepared and driven by Bart in various venues, including the Monaco classic GP, where his car caught fire. The results of this can still be seen, especially in the paint on the bonnet, which has partly disappeared.
Below, the famous "Prima Donna", car with a long list of Dutch owners, most famous being of course the "Bugatti Pope" Guillaume Prick, Pim Hascher and Bart Rosman.
The T43 (43303) was shortened and extensively modified during her long and active life.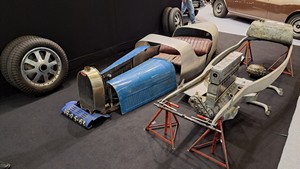 Also from the Bart Rosman collection, the above kit of parts to build a Type 35!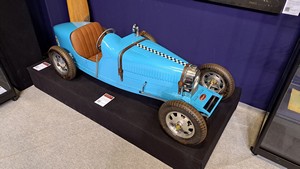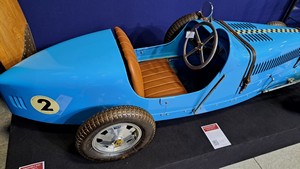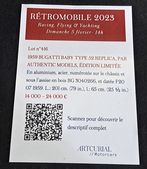 Finally in the Artcurial auction this Replica Bugatti Baby. People continue to call them "Type 52", which of course they never were.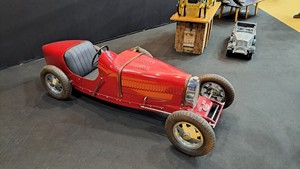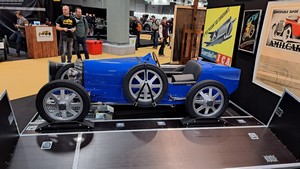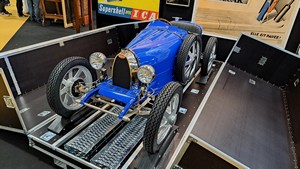 Another Baby, probably a replica?, as well as a modern "Baby II", made in cooperation with the modern Bugatti by the Little car company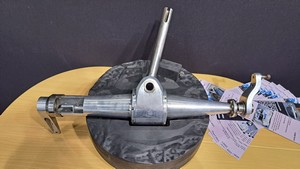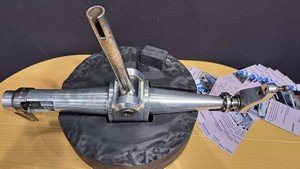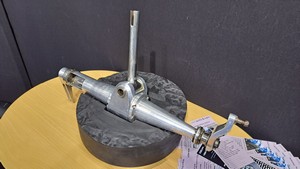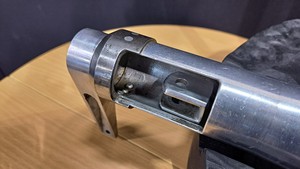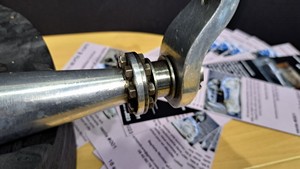 The Control stick (numbered "2", of most of the metal parts at least two were made) for the Bugatti 100P airplane. Part made in Molsheim, to a very high quality standard. Unluckily, there are various parts missing.
Below'more detailed photographs, also with the control stick dismantled into it's main pieces.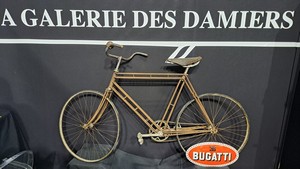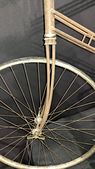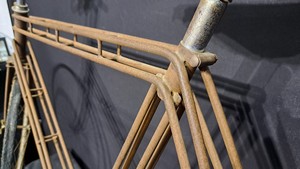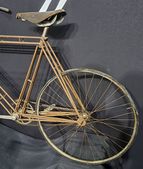 Another unique Bugatti item, the famous bicycle, which sat in museums for a long time. According to the seller (bicycle was already sold, by the way) it is the original bicycle, coming from the collection of Roland Bugatti, and later the Musee du Provence.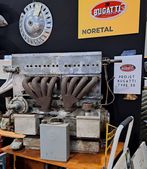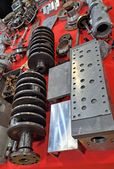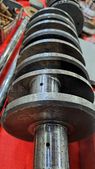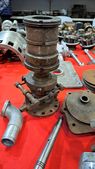 As always, various Bugatti parts, including a Type 30 project.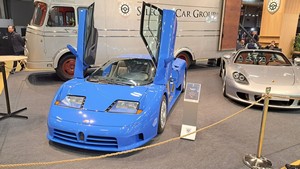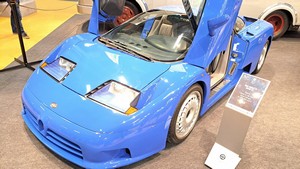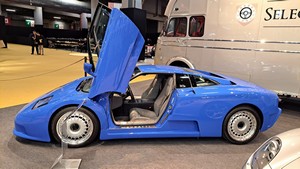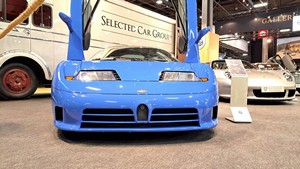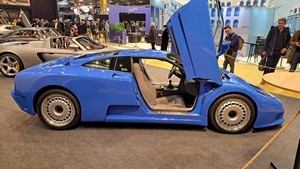 Still nicer than a Veyron or Chiron, the EB110. Also a Youngtimer of course, about 25 years old.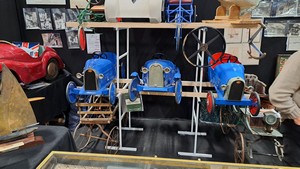 Some more Children's cars. One or two of these may be real period Eureka's.
Bugatti art and miniatures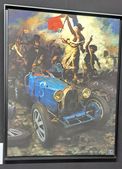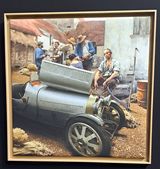 Two remarkable, even revolutionary? works by SGDG Décors. Does SGDG here also mean "Sans Garantie Du Gouvernement"?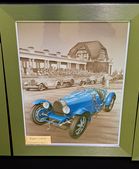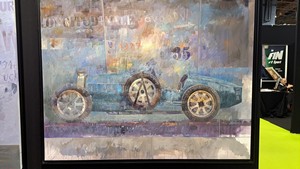 Work by an unknown artist (Left) and Stanley Rose (right)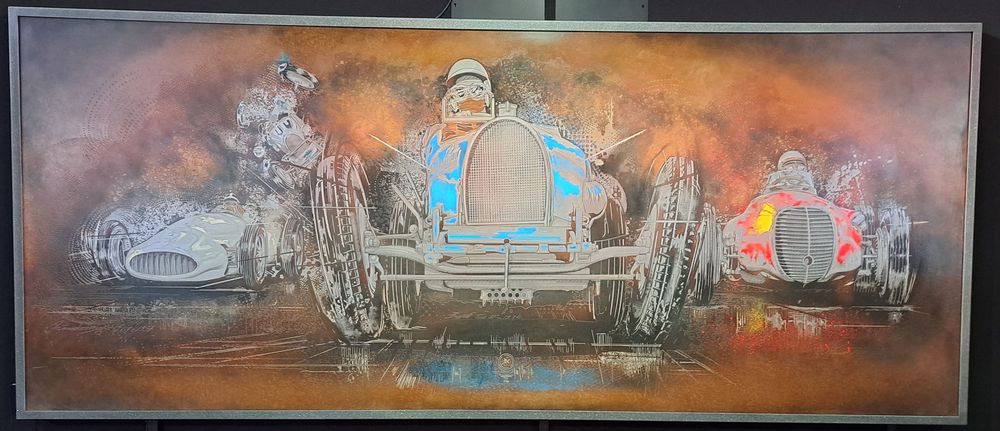 Impressive large (several meters wide) artwork, artist unknown, on offer at Chat Noir, Luxe & Design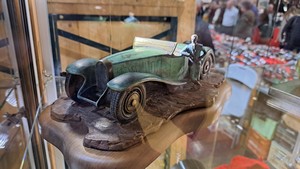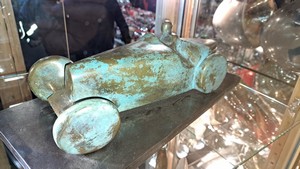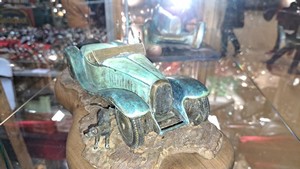 Some bronzes of a T35 and the Royale Esders Roadster. Including a dog peeing on the latter... Artist unknown.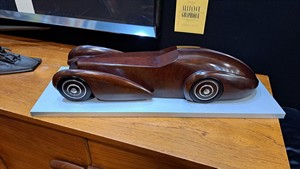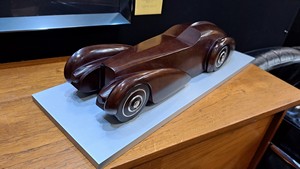 Powerful artwork in stone, taking the lines of the Atlantic one step further. Or a few steps, actually....
Which was what I wrote about it last year, and again this year...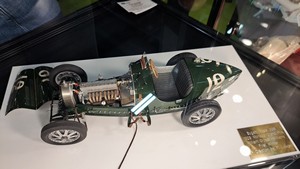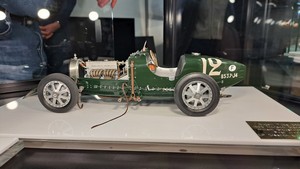 Very nicely executed T35B, in it's green William's Monaco 1929 colours. By Pierre Laugier of LP Creation.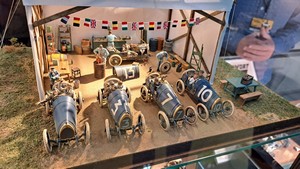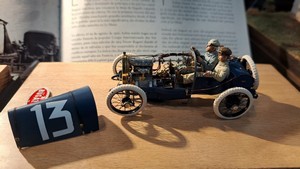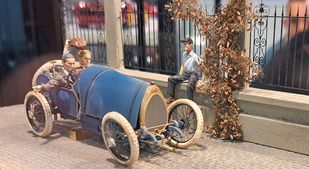 Lot's of Brescia's! Even in a tent presentation. All made by Velasor to a very high standard. They also come motorized for slot car racing.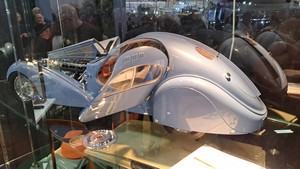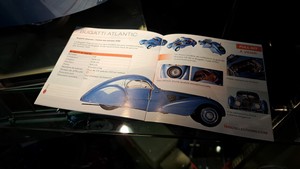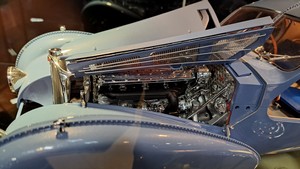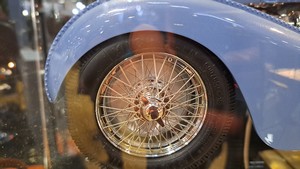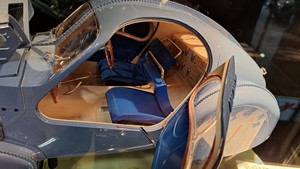 IXO Collections presented this T57SC Atlantic kit in 1:8 scale. Looks to be a quite beautiful model, though a bit "Plastic-like" in some parts, like the seats. Interesting anyhow, if the price is right.. They also sell a kit to build the Eiffel tower, which once built stands over a meter high, and illuminated also.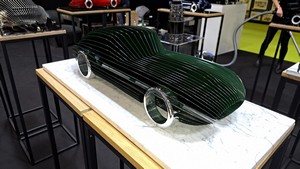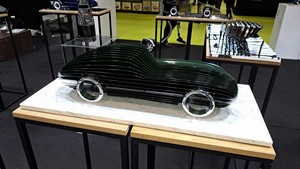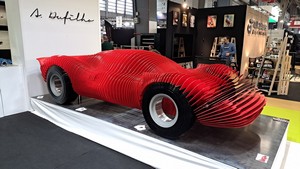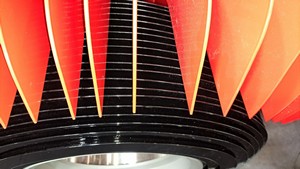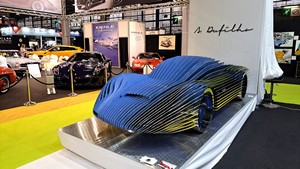 Antoine Dufilho started making miniature cars, of silhoutted plates placed in regular intervals. The Bugatti Atlantic was one of them. He now goes a step further, and makes cars in original size, but according to the same principle.
Other automobiles etc.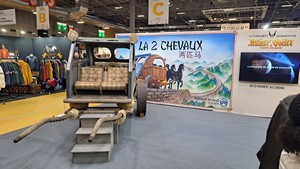 The oldest "car" in the show, the "Deux Cheveaux" from the latest Asterix & Obelix movie. People could have their picture taken with, or inside the "Citroën".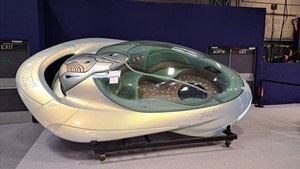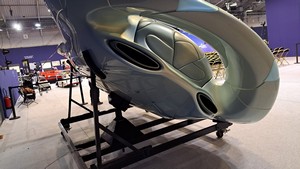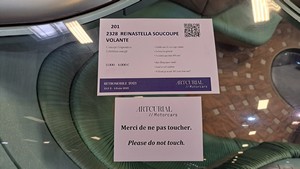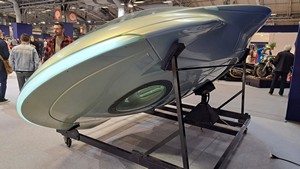 The most modern "car" on the show, the 2328 Renault Reinastella Soucoupe Volante. A show-prototype showing what private (flying) transport will look like in hundreds of years from now. The 2000-4000 euro estimate showed to be not enough by far; it flew to an impressive 71,520 €.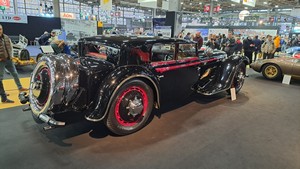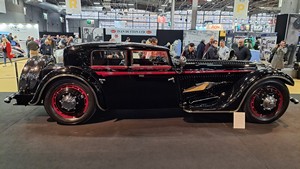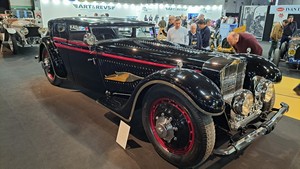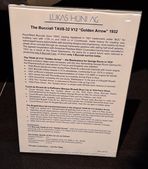 Impressive Bucciali V12. Very nice, low Saoutchik bodywork for one of the few Bucciali's built. This car has some Bugatti history, as the owner (in 1935) was dissatisfied with the reliability and performance of the Voisin engine, and had the body removed and put on a Bugatti Type 46! (46570)
Years later, the body was re-united with many of it's original components, and a partly remanufactured frame.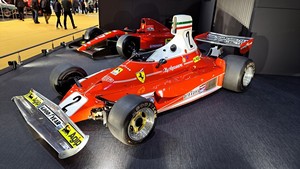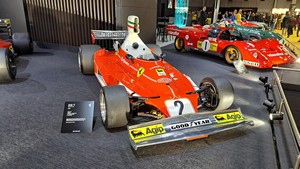 A Ferrari? You might think I have gone mad, to post one of those here? !
Well, the story is this, long ago, when I was still a teenager, I received the Tamiya kit in 1:12 scale. It was started by my grandmother's neighbour, who apparently found it difficult to finish. So, I finished it, and gave it the Clay Regazzoni lettering, where of course Niki Lauda's would have been more popular...

Apart from the occasional visitor wearing a face mask, not much was to be seen of the past years' pandemic; except for this one motorcycle.....
Chassis numbers
For those of you who want to know the chassis numbers of the Bugattis, Christian Anicet put them all together, they are the following:
T35B Grand Prix 1926 (4848)
T35B R Grand Prix 2006 (BC 138) BS 9829 (GB)
T35C Grand Prix (4059 / 4831) PV-703 (CZ)
T35C Grand prix 1926 (4791) BF 6700 (GB)
T35C Grand Prix 1928 (4881) 6624 TS 73 (F)
T35C Grand Prix 1929 (4920) 6397 AM 69 (F, Artcurial Auction)
T35C Grand Prix 1929 (4941) 9775-ZA1 (F)
T37 Sport 1926 (37227) 2395-P8 (F)
T37/35B R Grand Prix (BC 180) BF 7717 (GB)
T38 Grand Sport (BC 039) JO 5543 (GB)
T43 Grand Sport 1929 (43303) PX-51-RG (NL, Artcurial Auction)
T43A Roadster 1934 (43309) DZ-40-40 (NL)
T57 Cabriolet 1934 (57109) 1397 TK 86 (F)
T57 Cabriolet Stelvio by Gangloff 1934 (57181) 209 DA 31 (F)
T57 Atalante 1935 (57252)
T57C Atalante Découvrable 1936 (57432) AL-61-33 (NL, Artcurial Auction)
T57C Stelvio by Gangloff 1937 (57516) DZ-78-35 (NL)
T57 Ventoux 1938 (57724) 8396 RG 62 (F)
T57 Cabriolet Aravis by Letourneur & Marchand 1938 (57732) PM-27-16 (NL)
T57C Galibier 1939 (57795) PM-13-88 (NL)
EB110 GT, 1993
Auction results
Artcurial Retromobile Auction Paris, France, February 3, 2023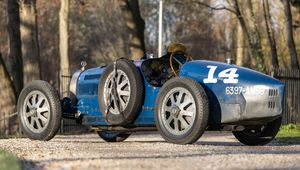 1929 Type 35C Grand Prix, chassis 4920, engine 166, ex Bart Rosman. Estimate 2,500,000 - 3,500,000 €: Sold for €1,900,000 without premium (€2,216,800 including)
1929 Type 43, chassis 43303, engine 130, ex Bart Rosman, ex Guillaume Prick. Estimate 1,200,000 - 1,800,000 €: Sold for €1,300,000 without premium (€1,530,400 including)
1936 Bugatti Type 57 Atalante, Chassis 57432. Estimate 2 - 3 Million €: Not Sold (the high bidder turned out not to have the funds)
Type 35 project, engine from chassis 4867, ex Bart Rosman, Estimate 80,000 - 120,000 €: Sold for €245,000 without premium (€292,040 including)
Artcurial Racing, Flying & Yachting Retromobile Auction Paris, France, February 5, 2023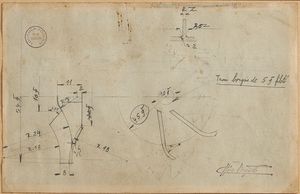 Dessin de construction, sold for: €3,674
Type 57, overhaul instructions booklet and spare parts catalogue, sold for: €656
Bugatti Baby Replica, Not sold
Three carburettors, Not sold
A large set of counters and gauges, sold for: €5,904
Lot including 2 magnetos, 5 ignitors, 1 starter, 1 dynamo, sold for: €328
Lot including fuel parts, filters and pumps, sold for: €1,181
SEV, MAGNÉTO Type HR8, sold for: €13,120
Two bronze Zénith carburettors type 48K741, sold for: €9,840
Scintilla magneto Type AM8-S, sold for: €4,592
Lot of Bugatti wooden casting moulds and patterns, water pumps a.o., sold for: €394
Lot of mechanical parts notably for Bugatti 35/43 including 5 cylinder blocks, rods, pistons, bearings, valves, etc, sold for: €15,744
Various mechanical and spare parts presumed to Bugatti type 40, some refurbished, including 2 rims, 3 cylinder blocks, 2 tyres, a wooden dashboard, etc., sold for: €7,216
Bugatti cast iron vice replica with a pair of replica legs, sold for: €5,248
Bugatti Touring aluminium 4-speed gearbox, #151, complete, sold for: €7,872
Various Bugatti mechanical and spare parts including nuts and bolts, camshafts, clutch, engine plate, etc. , sold for: €6,560
Bugatti Touring aluminium 4-speed gearbox, #744, partly complete and dismantled, sold for: €6,560
Five Scintilla magnetos "Vertex", Not sold
Three Scintilla magnetos "Vertex", sold for: €1,312