The Type 54 with Uhlik's beautiful Roadster body as it is now (well, photo 2014) in the Mullin collection. On the right the description which stands besides the car. As can be seen the seam over the center of the fenders, as seen in the top photograph, has disappeared....
Yes, the fate of 54201 was very badly mutilated by that, sorry can't think of decent adjective for that late cretain Hampton, lying and mutilating that 54201 beyond imaginable fate prompting sudden re-birth of another 54201. So Hampton, as a British subject totally enamored Czech agents and the Pohl brothers, so myself, as an honest buyer was kicked away. Because he was an excellency, and me just a mere Czech peasant, I could not reach to Hampton's knees, though later I've learned that Jiri Pohl conveyed that they had made a mistake and I should have been the owner... And to my dedication I could make sure to anybody that Pohl's/Uhlik's Type 54 would be still exactly the same as when sitting in Zdenek Pohl's barn and not another one would ever be created.
The late Steven Mullin, who appointed me to research their Type 54 "Praha" and of course his brother Peter didn't appreciate that I had in great detail (17 pages + photographs) described their fabulous roadster as being NOT original. They have even rejected my recommendation to purchase the "more" original 54201 from its then owner, Dutch collector Mr. Glasius, who well reconstructed the original chassis & engine back into its GP form.
I'm still omitting the detailed findings, why Mullin's "Praha" Type 54, is absolutely not original (except for the body). If you could read more / let me know - would try to distill you some technical details. Will try to include some photos - beware some are from controlled vaults -one is T54 as I've seen in Libnevec, Z.Pohl residence-NOTE pronounced fender seams, confirming my theory about Jean's hand in creating that body-NO other Uhlik's body has such feature (Atlantic has it later)!
The late P. Hampton - yes, I thought he was a fake. No, I was NOT jealous that he's got what I deeply wanted; life brings us into situations, where we fail, despite all the efforts we make. He was a liar, person who, if he was given a "Stradivari" would convert it to a simple guitar to play rock music. He made op and published a wild story, how he, intrepid warrior from the landing in Normandy, smuggled the Type 54 out of boorish Czechoslovakia, being pursued by the rough Czech police, through the "free world". But he "smartie" outsmarted them by "removing horse shoe front radiator". In fact it was totally different, he had a Purchase Agreement and Permit from Prague CS Technical Museum, that he was eligible to transport that vehicle from CS. There was no police pursueing him, which would not be possible anyway, since the police of one country can NOT pursue their culprit into another Country, not to mention from a Socialist Country.
Above all, apparently the first thing he did when reaching the UK, was to shed the most fabulous body of master Uhlik (to my opinion one of the best if not the best car body makers in Europe). At that time I had moved to UK, so I have sent him a letter to "Spronkets" offering to buy that body - never any answer! Then he had "converted" the original brakes into "modern" hydraulic brakes, justifying his action with his legs weakness and reportedly also a front axle. Removal of Uhlik's fabulous work of art caused that Bugatti to be split into 2 vehicles, both claiming to be T54201.... Alas, by prompt butchering the original Pohl's "baby", Hampton broke his "Holy promise to Pohl", that the car would never be altered (that is what I had promised to him too during my negotiation to buy), hence a liar.
P. Hampton apparently advertised the Uhlik' body for 200 LbSt. A certain Guy Huet bought it, but could not recall from whom, though mentioned that some Larry Deusch might have been the "owner". Mr. Huet sold the Uhlik body to the German Uwe Hucke, though I've discovered that body was in Nice, France, but was snapped there before my arrival by maestro Ray Jones, renowned hunter of Bugatti periphernalia throughout France.
When in UK, Bug expert of the time Mr. Conway visited Hampton and declared that engine # is 54133, most likely though it was 5413, believe such "finds" are still on record in UK Bugatti Club. He possibly saw that 5413 was punched into the engine front leg - when I've asked Olav Glasius, he had confirmed that #. AND NOW MY THEORY, Olav doesn't agree with me = since confirmed that #14 engine, of the later T54202 - both 201 and 202 were created at the same time (August 1932) - #14 was a spare for Le Mans 1931. The Type 50, #13 engine might have been used to power one of the 3 Le Mans (none finished, even masters Varzi/Chiron did only 24 laps) Type 50 entries and then re-worked and used in 54201
Meanwhile Hampton commissioned known Dick Crostwaithe & Gardiner (not politely labeled by Ray Jones) to restore??? Pohl's Bugatti through 4000 (yes thousand!) hours, sweat pouring effort. I have seen & run that car, it was in immaculate condition, the 4000 hours were spent doing what? In addition, Peel was commissioned to re-create the GP body. Oh, what came out with bicycle fenders, unsuitable lights and kit car appearance, like to be "GP" body, was a pinnacle of Hampton's criminal activity.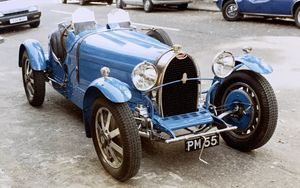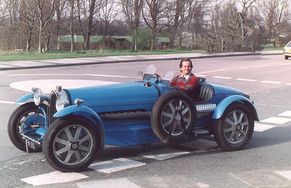 54201 with the Peel body, on the right with Chris Gardner at the wheel.
After Peter H. departed from this World in 1991, Pohl's mutilated T54201 was sold through Brooks to certain Chris Gardner for Abba Kagan of Monaco. Jaap believe it or not, Chris was living for certain time in Florida, and he somehow found me. He was very proud of their purchase and wanted me to tell him every detail about it and unfortunate AVUS. He also wanted me to organize meeting of their "racer" with another Jiri Lobkowitz, who moved to Prague from Monaco. I would have been embarassed if such mutilation came back to Czech so steered away from that (meeting though was realized by Olav in later years with his proper T54). Since Chris (and Abba) seemed to have some problem with French Law, their "kit car" was sold to Olav-we both know.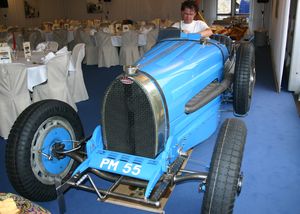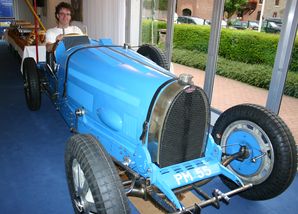 54201 in 2005, when owned by Olav Glasius, as far as I know. Jaap Horst posing at the wheel.
Olav Glasius is a totally different person than any previous ones - he hired Rod Jolley to create more accurate / proper Type 54 GP body. (Rod Jolley didn't confirm to me that engagement). Olav campaigned that Type 54 in various vintage gatherings / races - and I admire his effort, collection of other cars. I've suggested to Peter Mullin to buy his, more real T54, which was turned down. Olav later asked me if I could find for him a buyer of that T54 - so tried beside Mullin several other collectors, Canepa people were very interested but stuck to Porches only.
The "other T54201" Uhlik's body travelled from Nice to USA. Jones probably sold it w. his made up chassis, engine and other parts to L. Gohlike, who might have sold it to late Michael Gidding, who might have assembled everything from Jones and made a fabulous roadster for San Francisco celebrity Skip Berg. Amazingly Berg found me too and asked me if I can find him a buyer. Spoke to interesting people like Jay Leno, who surprised me with his elevated ignorance about the cars of that Bug vintage. Meanwhile Peter Mullin snapped that Uhlik's T54201", eventually commissioning me (through his late brother Steven) to confirm its originality, which after extensive research I could not - so he hates me since (though way back, when visiting his home estate here in L.A. his wife suggested to make a film about sprouting of 2 T54201 Bugattis!).
Uhlik
Oh, some people asked me in the past - who is that Uhlik? There is a book by Jan Kralik "Oldrich Uhlik, Karosar" about that body designer / builder (his personal car was also a Bugatti, Type 46)
Beside the car for Lobkowitz, he bodied Bugattis of other crowned or important people, or friends. My father's Business was also located in Strasnice, Prague's suburb, like Uhlik's company. They knew each other, Uhlik built a fabulous American style pick up for my father on the American Graham-Paige limo.