A virtual magazine for a true passion!

Editor: Jaap Horst
---
Volume 17, Issue 2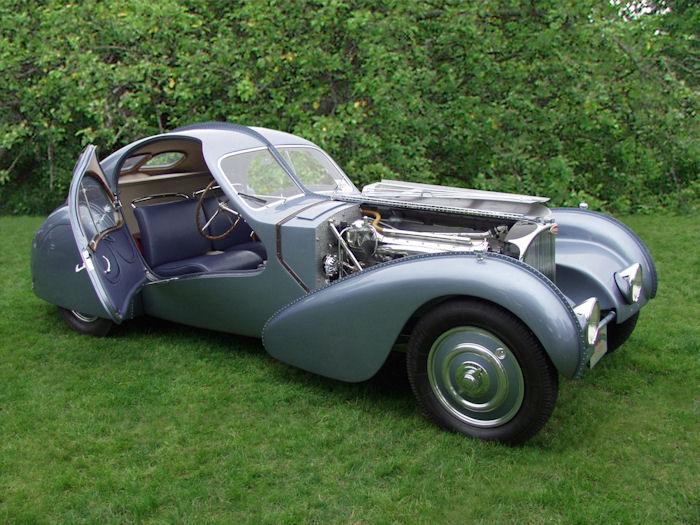 Photo © Michael Toomey
Victor Rothschild
Walter Jamieson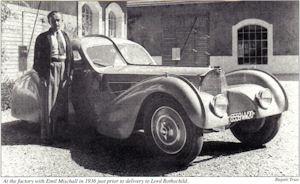 Like so many American Bugatti enthusiasts close to my age, I first learned about Bugattis from Ken Purdy's book Kings of the Road. Pictured on the dust jacket was Atlantic 57374. It was painted an inappropriate bright red and had been subjected to some body modifications, but none of that mattered to me at the time. I didn't even know about the ill-advised changes to the body; all I knew was that I had never seen such a striking aulomobile and didn't know anyone who had. It was astonishing. That, combined with Purdy's glowing Bugatti chapter including special mention of the Atlantic, made a remarkable impression on a 14-year-old. Purdy's vision of the car being driven down "a string-straight poplar-lined Route Nationale" to the Cote d'Azur is one of the most often quoted lines in automotive writing.

That image was gripping enough. but l had no idea that 56 years later the same car would be sold for a price that no one at the time could have imagined would ever be paid for an automobile.
Now, having seen this spectacular machine both before its restoration and after, l wanted to know something about the man who placed his order for it before it had even been built. The original owner of the most expensive car ever sold was smart, rich, aristocratic, handsome and impulsive, as one might expect of the first owner of the first Bugatti Atlantic.

A note from sales manager A. Paul to Jean Bugatti lists the first six orders that had been placed for Type 57S Bugattis: four Atalantes and two "Aeros," as the Atlantic was originally called. There are different opinions as to what happened with the other Atlantic order in that note to Jean. It has been suggested that Embiricos changed his mind and got a different body or that it became 57453, the first black Atlantic, now lost.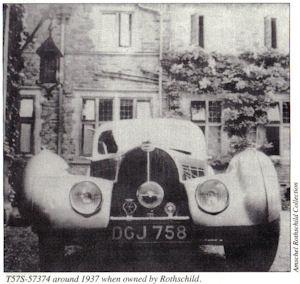 The fifth entry on the list says "Rothschild" along with the date March 10, 1936. That surname, already familiar to Jean, belonged to Nathaniel Meyer Victor, Third Baron of the English branch of the legendary Rothschild family; Victor was 26 years old at the time. Atlantic 57374 was delivered to him via Bugatti's British distributor. Col. Charles Sorel, in September 1936, and Jean photographed it with Sorel's salesman, Emil Mischall, just before Mischall drove it from Molsheim to London. One can only imagine the reaction of anyone in rural France who was fortunate enough to see the Atlantic as it sped across the country to the English Channel crossing.
Rothschild used the car in and around London and Cambridgc and to visit the country homes of family and friends. but in the fifth year of his ownership his enthusiastic driving took its toll, and the motor blew up. He abandoned the car in a field and retrieved it later only to put it in storage. It wasn't easy to sell a Bugatti in 1941, and whoever might buy it would have to bear the cost of major repairs. Two partners in High Speed Motors in London, Robert Arbuthnot and T. P. Tunnard Moore, did buy it, however, and the first Allantic went on from there to its varied and historic life without Baron Rothschild.
Very briefiy, that life included at least three clumsy modifications to the body, at least three different superchargers, three color changes, as many as five more owners, a record auction priee of $59,000 when sold to ABC member Dr. Peter Williamson at Sotheby's in Los Angeles in 1971 and a complete restoration to its original appearance thirty years later by ABC members Scott Sargent and Jim Stranberg. Following the restoration, 57374 won Best in Show at Pebble Beach in 2003 and in 2010 was sold privately for more than $30 million. Over the years and almost to the present, reams of misinformation were written about it including the notion that its first owner was Philippe de Rothschild, Victor's cousin from the French branch of the family. In Sotheby's catalog of the 1971 sale, the car was said to be in mint condition while on display at Briggs Cunningham's Costa Mesa Museum during Robert Oliver's ownership. In fact, Dr. Williamson, the man who owned it longest and knew it best, said it had been "butchered."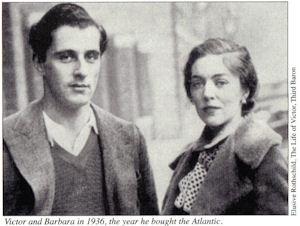 Victor Rothschild had an unusually full life before and after the Atlantic. Unfortunately, he may be best remembered today as a friend of the notorious Cambridge Five-Burgess, Maclean, Philby, Blunt and Cairncross-who spied for Russia before, during and after World War II. He was even thought for a time to have been the "sixth man" but was ultimately cleared of all suspicion.
Victor apparently owned two other Bugattis while a student at Cambridge. He is known to have owned T55-55220 before the Allantic and another presumably roomier one as well. He drove his friends George Rylands and Arthur Marshall to Monte Carlo in it and paid for their hotel rooms with his casino winnings. on another occasion he drove a Bugatti the 60 miles from Cambridge to London in 49 minutes, a feat reminiscent of Jean Bugatti's whirlwind record drives from Molsheim to Paris. Another trip to Monte Carlo included Anthony Blunt and Guy Burgess along with Rylands.
While still at school he became devoted to English literature, which led to his passion as a bibliophile; he also developed an even more consuming interest in zoology. He became a fine cricketer at Harrow and soon realised that his skill at sport provided at least some protection from Harrow's vicious anti-Semitism and endemic homosexual advances. He began to learn about these disadvantages of school away from home when he was sent away to Stanmore Park at age 9. He later called the place a "hell-hole."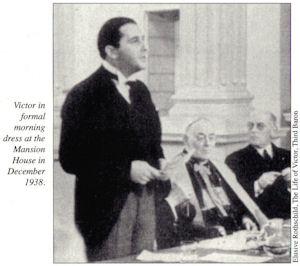 At Trinity College, Cambridge, he knew the men who later turned out to be Communist spies. The members of the Cambridge Five, as they came to be known, were naive, arrogant and misguided, and most of them were dissolute.
Between 1939 and 1941 Germany and Russia had a non-aggression pact; any information shared with the Russians therefore wound up in German hands as well. The activities of the Five were obviously treasonous at the time, but in 1941 Germany did a turnabout and invaded Russia, resulting in Russia doing a turnabout of its own, becoming an ally of Britain. At this point the Five might have kidded themselves into thinking that their actions were no longer treasonous; they were, obviously, very much mistaken. Three of the five were casual acquaintances of Rothschild's, hut the other two, Burgess and Blunt. were his good friends, which eventually resulted in Victor coming under close scrutiny. He was suspected for years, despite being vetted repeatedly for the sensitive government positions he later held. As a director of counter-sabotage and an extremely brave and resourceful demolitions expert, he was aclually a hero during the war. His wealth and position and the anti-Semitism prevalent in much of British society at the time made him an irresistible target for investigators trying to make a name for themselves. No attempt to link him to the spy ring's activities ever bore fruit.
His career after the war was equally impressive. He was primarily a dedicated zoologist/biologist, specializlng in insect fertilization, financing his own laboratory for years in addition to working with others. His accomplishments in the field were such that in 1953 he was elected to the Royal Society, a group of more than six hundred highly regarded scientists in a wide variety of specialized areas.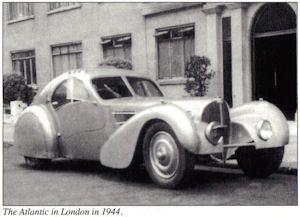 He was an assiduous collector of fine English silver and gold objets d'art to which he soon added an even more impressive collection of eighteenth-century books and manuscripts, one of the finest and most extensive in private hands anywhere. His wealth obviously facilitated his adventures as a collector and permitted him to buy and trade daringly in this tricky, rarefied and expensive market. World famous Chateaux Lafite and Mouton, owned by his English and French cousins respectively, were ready sources of gifts for those who aided him with his projects and interests. He was also a dedicated amateur jazz pianist and studied informally with the fine Swing Era pianist Teddy Wilson whenever he could arrange to during his New York visits. His taste in music remained more conservative than that of his sister Nica de Koenigswarter, widely known as the Jazz Baroness and patroness of modern jazz innovator Thelonious Monk. Although the Baroness's taste in music was more advanced than her brother's, her taste in cars was rather more conventional, famously limited to Rolls-Royce and Bentley convertibles in which she drove many jazz notables swiftly through the New York City night streets.
Victor maintained his connection to the British security establishment from WW II until the end of his life. He was a consultant at Royal Dutch Shell beginning in 1958 and continued that association until 1970, advancing over those twelve years from consultant to member of the Board and later Board Chairman of Shell Research and eventually Director of Research for the Royal Dutch Shell Group.<>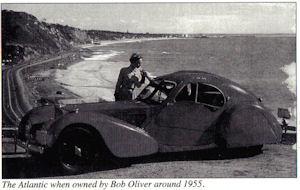 In 1970 then Prime Minister Edward Heath had the idea for what was popularly known as the "think tank," a rather vaguely defined group that Heath called upon Rothschild to lead. This appointment put him in a position to call upon leaders in many fields in and out of government whom he considered to be original and insightful to act almost as a counter-bureaucracy to confront Britain's problems with fresh ideas. He led this constantly changing group with humor, imagination and forcefulness. Perhaps the most familiar accomplishment of the "think tank" was to push the Concorde project to conclusion.
When his tenure after a bumpy ride of four years as head of the "think tank" ended. he became, inevitably and rather unenthusiastically, chairman of N. M. Rothschild & Sons, the family bank in London, from 1975 until 1988. An avid scientist all of his adult life, he continued his biological research while chairman of the Rothschild bank and established Biotechnology Investments, Ltd., a venture capital concern associated with the bank.
Married twice, he was the father of six children, two girls and one boy from each marriage. He managed to be a somewhat distant, demanding but, at the same time, loving parent. Victor's wealth assured that his children would be well provided for.
The cloud over him because of his Cambridge friends never really left his heart despite being publicly cleared of any wrongdoing.
Victor Rothschild died in 1990, vastly accomplishcd and quietly admired but never quite satisfied, ownership of the first Bugatti Atlantic only one of the many high points in a very full life.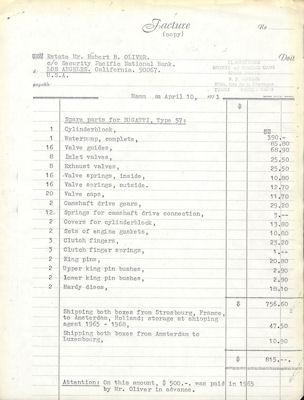 Left: Peter Williamson and Scott Sargent beside the Atlantic at Greenwich. Right: a copy of the spare parts list that came with the original auction purchase.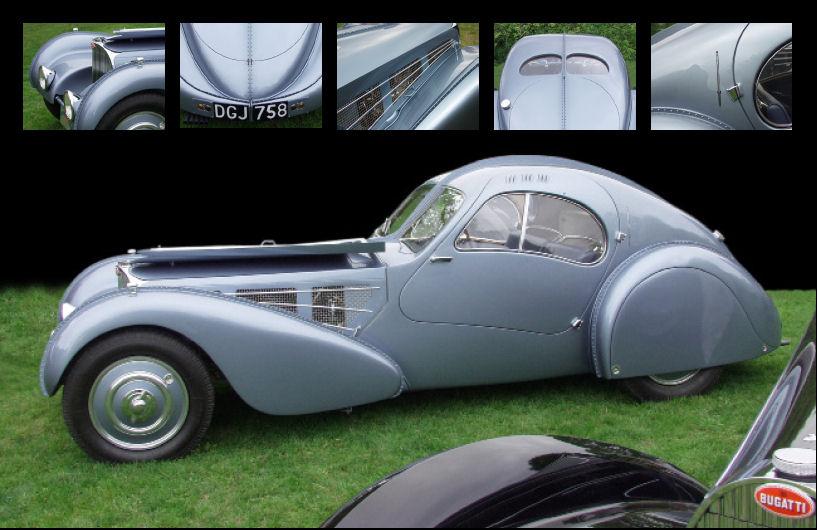 Photograph to which Michael Toomey added 5 small insert photos that feature some of the corrections made in the restoration:
New/Old headlights
New/Old license plate number and mounting
New/Old side grill trim
New/Old traficator turn signals
New/Old Restored smaller rear windows
Sources
Elusive Rothschild, The Life of Victor, Third Baron, Kenneth Rose, Weidenfeld & Nicolson, London, 2003.
Bugatti Yesterday and Today, The Atlantic and Other Articles, L. G. Matthcws, Editions SPE Barthelemy, Paris, 2004.
Anthony Blunt, His Lives, Miranda Carter, Ferrar, Straus and Giroux, New York, 2001.
Nica's Dream, the Life and Legend of the Jazz. Baroness, Davis Kastin, W. W. Norton & Company, New York, NY, 2011.
Sotheby Parke Bernet Los Angeles Bugatti Type 57SC " Atlantique" [sic] Electron Coupe, June 12, 1971 catalog, courtesy of Jim Sitz.
New York Times article June 13, 1971, reporting the results of the SPB sale above.
Thanks to Michael Toomey for sharing the color photographs (© Michael Toomey) of 57374. The author also wishes to thank Bernhard Simon.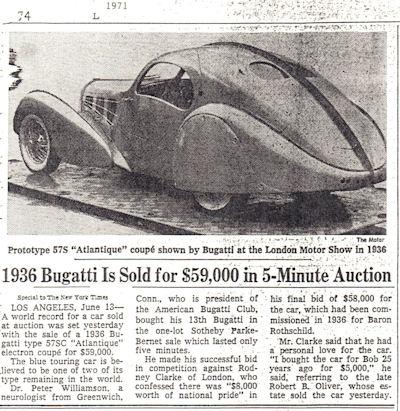 News item on the 1971 sale. Note that a picture of the wrong car (the Aerolithe) was used to illustrate this item!
---
Back to the Bugatti revue
---
Vive La Marque !!