A virtual magazine for a true passion!

Editor: Jaap Horst
---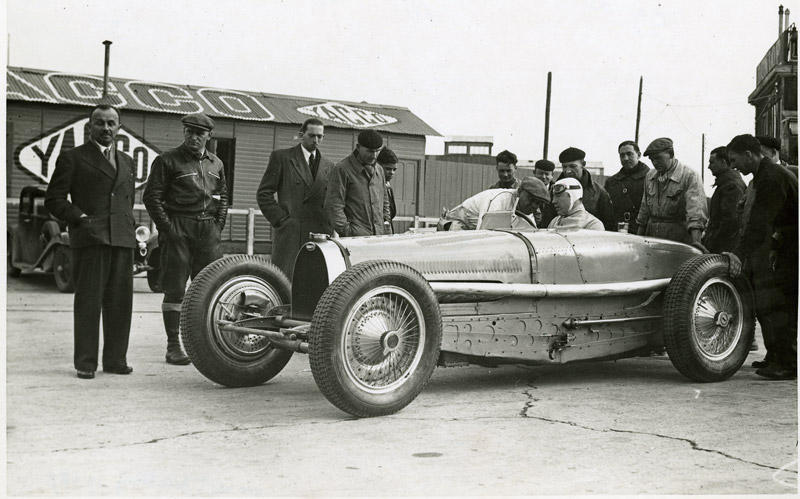 Volume 16, Issue 2
Remembering Jean Pierre Wimille
By Kate Walker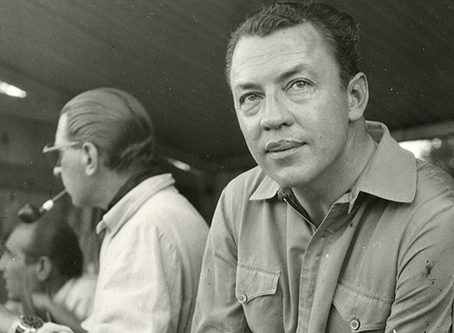 It is worth remembering that the world of motorsport is not isolated from global events, and that the paddock is not the centre of the universe. The Second World War, one of the most important events of the twentieth century, touched the lives of racers and civilians alike.
One of those racers was Jean-Pierre Wimille, a man who was both a racing superstar and war hero.
A number of pre-war Grand Prix racers were involved in the Second World War, as soldiers, couriers, and resistance fighters. Frenchman, Bugatti driver, and 24 Hours of Le Mans winner Jean-Pierre Wimille was one of a select group of men known as the Grand Prix Saboteurs, former drivers who worked with the Special Operations Executive to help run Resistance cells in Occupied France.
Wimille first began to race in 1930, after watching the career of one Robert Benoist, France's superstar driver of the 1920s. In an era when the Italians were beginning to eat away at France's motorsport dominance, Benoist was the man who made sure the tricolore waved above the podiums of grands prix across Europe. Later, Benoist would recruit Wimille for the Resistance movement.
After impressing in his first race, which he entered in a privately-owned Bugatti, Wimille managed to get access to a borrowed Bugatti Type 51 for the 1931 season, courtesy of Bugatti dealer and racing patron Ernest Friedrich. Wimille raced the 51 and his own Bugatti voiturette to destruction that year, and had to finish the season early when he had run out of machines to race with.
It was 1932 before Wimille really made his mark on the racing stage, showing his breadth of talent with wins in hillclimb events, the Grand Prix at Nancy, and the Algerian Grand Prix at Oran. Wimille was leading the French Grand Prix when he rolled his car and retired from the race. He was hospitalised, but was soon ready to race again.
In 1933, a post-accident Wimille was less aggressive on track, and got better results as a consequence. His improving form impressed the Bugatti race team, and Wimille was offered a seat on the same team as Benoist, his motor-racing hero. The move was badly timed. In 1934 grand prix racing became dominated by the new state-sponsored German teams, Auto Union and Mercedes-Benz, and a string of losses prompted Ettore Bugatti to pull out of single-seater racing and focus on sports cars, particularly the Le Mans 24 Hours.
The change of focus would prove to be successful. Bugatti developed the now legendary 57Gs, better-known as the "Tanks", and in 1937 Wimille and Benoist drove a Tank to Le Mans victory. It was Wimille's first attempt at the 24 hour race, and he became one of four rookies to have won it.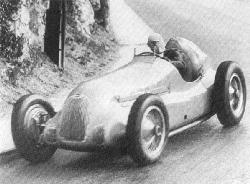 In 1938, Wimille wished to continue racing single-seaters, so took a drive with Enzo Ferrari's Alfa Romeo team. But the German dominance of grand prix racing was still at its pre-war peak, and the Italian team was not competitive. The Frenchman returned to Bugatti's Le Mans effort in 1939, this time partnered with Pierre Veyron, and won the race for a second time.
The outbreak of war in 1939 meant an end to racing. Wimille was in peak form for a racing career, and would lose most of his thirties to war and occupation. But, thanks to former Bugatti teammate Robert Benoist, Wimille would have a vital role to play in the future of his beloved France.
In the early part of the war, Wimille turned his attention to designing sportscars, following in the footsteps of Ettore Bugatti. Wimille even recruited some former Bugatti engineers and designers to help him in his task. But in 1942, Benoist, Wimille's former colleague and idol, recruited his countryman to help with Resistance work in cells around Paris.
Wimille's best-known contribution to the efforts of the Resistance was his work with the Clergyman cell, which caused chaos and disruption around the town of Nantes on D-Day, slowing down the movement of German troops. But as one of Benoist's men he was also key in moving imperilled agents across the country for safety, in picking up arms drops, and moving radio operators around the countryside.
In the spring of 1944, Robert Benoist and a number of key figures in his network were caught and arrested by the Germans. Most were executed, or died on their way to camps. Wimille was lucky to evade capture, and spent the rest of the war continuing Benoist's work in Paris, coordinating attacks on the Germans in the weeks leading up to liberation. Once Paris was liberated, he joined the Free French Air Force, and spent the closing days of the war flying missions over Germany.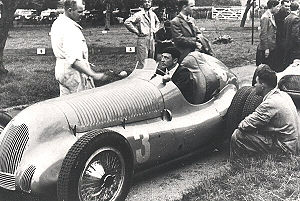 Wimille survived the war, and won the 1945 Prisoners' Cup, the first post-war race. It was run in honour of Robert Benoist, through Paris' Bois de Boulogne. Many of the competitors, Wimille included, raced in their war uniforms.
Racing did not immediately return to war-ravaged Europe. Although countries hoped to improve public morale by staging events, the priorities were food, healthcare, and housing. But a few events remained, and in 1946 it was possible to run a small calendar of national and international races. Wimille joined the Alfa Romeo factory team, making his debut at the St Cloud street race in 1946. One month later, at the Grand Prix of Geneva, Wimille appeared on the podium at the first post-war international race.
In 1947, Wimille was a wanted man, in demand at both Alfa Romeo and Gordini. A deal was struck which would allow the Frenchman to race for Gordini in French events, and for Alfa Romeo internationally. It was a mixed season at both teams, although Wimille won the 1947 Robert Benoist Cup for Gordini, a fitting tribute for a French racing driver who owed so much to his fellow resistance hero.
1948 was a good year for Wimille, race-wise. He dominated the European racing season for Alfa Romeo, with wins at the French, Italian, Monza, and Turin grands prix, and would have won that year's world championship, had the title existed at the time. Most exciting for F1 fans, however, is the description of the head-to-head battle between Wimille and racing legend Juan Manuel Fangio in the 1948 Grand Prix of Rosario.
The two men were in identical cars, so it really was a battle of two drivers, nothing more. Wimille lead the race from the start, but in a battle of tactics and wills the Argentine got the upper hand, eventually passing the Frenchman for the lead. But Wimille was not going to be outdone by the local hero, and battled his way back past Fangio. Once he had made it through, Wimille refused to cede an inch, and Fangio went on to retire thanks to an engine failure. Had Wimille lived into the 1950s, he would have given Fangio a run for his money in the early years of the Formula 1 World Championship.
In January 1949, while practicing in Argentina, Jean-Pierre Wimille crashed his car. He did not survive the accident, the cause of which has never been officially determined.
For more information on Jean-Pierre Wimille, Robert Benoist, and Willy Grover Williams, read Joe Saward's excellent book, "The Grand Prix Saboteurs".
This article was first published on www.girlracer.co.uk
---
Back to the Bugatti revue
---
Vive La Marque !!