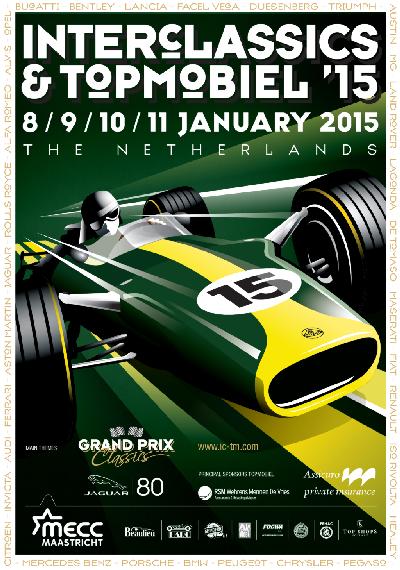 A virtual magazine for a true passion!

Editor: Jaap Horst
---
Volume 20, Issue 1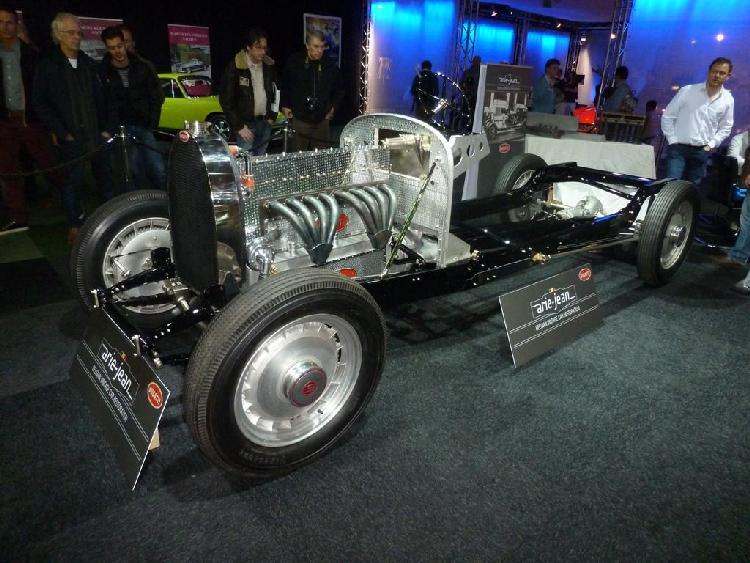 MECC Interclassics & Topmobiel 2015
Jaap Horst
Click on a picture for an enlargement
This year I received a bunch f free tickets from Arie - Jean, Belgian restoring company, who were showing a restored T46 chassis. I invited my friends Martijn and Frans with me, the latter took his son Mark with him, who he somehow managed to infect with the Bugatti-bug. I never succeeded in doing that with my 3 children! So, together we drove to Maastricht, for another interesting show!
The steady factor at MECC is Jean Prick's stand, as usual with a few well known cars, as well as always some surprises. And loads of parts for sale as well. We'll show the important ones below.
Jean was showing his own dark green Ventoux on the stand, as well as this nicely detailed Type 43. All the detailing is Ok, though the car is entirely a replica. Also (on the right) a nice Type 37.
Star of this stand was this nice Peugeot, a Bugatti designed Bébé, and a very early one. Maybe even made at the Bugatti factory! Though apparently a small car, your author fits in it quite Ok, though better with the top down. The Bébé was there also to present the New Peugeot BB register.
Another impressive item, is this Carlo Bugatti style Juke-box. It has an American mechanism, and should date somewhere in the 1930's. No proof that it is made by Carlo Bugatti, but the shape and detailing is exactly the Carlo Bugatti style, as he made in that period of his life.
A surprise was to see this snice authentic Type 44, in which I had a ride many years ago, when it was still owned by Chris Gardner. I had received a message that it would come on the market again, after having been "in hiding" for almost 10 years. About a month later the same car would be at Retromobile, now with a new owner...
There was this year a special theme of Grand Prix cars. 3 nice, though well known, Bugattis including one huge T54 were presented, giving the opportunity to shoot some nice pictures!
A very nice restoration effort on this Type 46, by Arie-Jean from Belgium (a non marque-specific restoration firm). Though some might comment that it is a bit too shiny, it is probable that Ettore showed his chassis in this manner at the Paris car show!
For those of you who want to know the chassis numbers of the Bugattis, Christian Anicet put them on BugattiRegister.com:
Type 35 Grand Prix 1925 (4449) 35 AAA 59 (F)
Type 37 Sport 1926 (37223) 71.V.25 (B)
Type 44 Berline by Van Vooren 1930 (441252)
Type 46 chassis 1930 (46331)
Type 54 Grand Prix 1931 (54201)
---
Back to the Bugatti revue
---
Vive La Marque !!