A virtual magazine for a true passion!

Editor: Jaap Horst
---
Bugatti EB 110; race successes
If the Italian Bugatti, build in Campogalliano by Romano Artioli and his team, truly deserves the Bugatti name is something that everybody has to decide for himself. However I know that most Bugattistes have a more than average interest in this car. Here I'll try to give some info on the few Bugatti EB110's that truly raced, trying to imitate the success of their famous ancestors from Molsheim.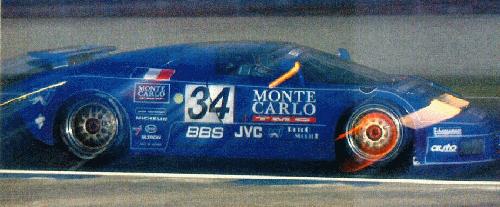 Click on a picture to see an enlargement!
Introduction
It was in 1989 that the plans for the new Bugatti-revival were presented by Paolo Stanzani, of Lamborghini Miura and Countach fame. The general lay-out of the car was already known, a prestigious 12 cylinder, 60 valve, 4 turbo, 4 wheel drive rear engined supercar, better than anything known to man (in those days). The expectation was to get 550 HP out of this! Plans were tp remain the total weight below 1300 kilograms, but this turneds out to be 1620.
However, how the car should look on the outside was not known yet! This was done by Marcelo Gandini (and others) later on.

Stanzani was sent away in 1990, because of some unclear manupulations with stock, which should have given him more than 50% of the possession of Bugatti. This "coup" didn't succeed however. In the end Romano Artioli took over as the "face" of Bugatti. Maybe an article about all the political games at Bugatti should be written once.

The 15th of September 1991 the EB110GT was presented by Romano Artioli in Paris in a big show to the public, exactly 110 years after Ettore Bugatti had been presented for the first time, presumably not in so big a show! A short time later a better, lighter and more powerful monster the EB110 SS (either SuperSport or Sport Stradale) was presented, capable of 352 km/h and 0-100 km/h in 3.2 seconds. This is the version that was almost ready to race with.

As we know the Bugatti plans were set-up too ambitious, even when Mauro Forghieri came in 1993, of Ferrari Formula 1 fame, it couldn't stop the end to the entire venture in 1995. Estimations are that some 150 cars have been built.
Le Mans, 1994
Drivers: Alain Cudini, Eric Helary and Jean-Christophe "Jules" Bouillon.
Did not finish.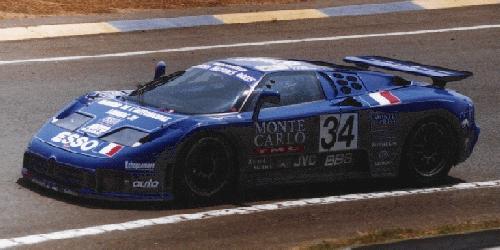 It was in 1994 that Bugatti was to appear again at LeMans, after their last appearance (and win) 55 years before, with the famous T57G "tank".

1994 was the year that Le Mans would be made more popular, the specially designed race monsters would be banned, and only "normal" productions cars would be allowed to enter. However Porsche found a way out of these regulations with the "Dauer Porsche", effectively a Porsche 962 purpose built car, converted for road use, and then converted back to race. This was quite some faster than the rest, and would eventually win. Of the real GT class, the Bugatti proved fastest in training, in the GT1 class (engines up to 600HP). In the same class competed MVS Venturis, De Tomaso Panteras, Dodge Vipers, Porsches Carrera RSR (and the famous Dauer Porsches). Apart from this were the GT2 class (up to 450HP) and some others.

In this training, a month for the race, the Bugatti was fastest in class, looking and sounding gorgeous, and going quickly, despite the weight penalty of the four-wheel-drive. It was only just faster than the MVS Venturis, and 25 seconds slower than the Dauer Porsches.

For the race itself, I quote from Autosport:
"Leading the way in the GT class should have been the Bugatti EB110SS, driven by touring car oldtimer Alain Cudini and French young guns Eric Helary and Jean-Christophe "Jules" Bouillon. The Italian supercar looked set for a top-six finish despite a very slow start...

One hour before the race, the local Synergic team, which was running the car for publishing magnate Michel Hommell, discovered a fuel leak. The only solution available to mend the car in time for the race was a tube of Araldite. A fully stocked garage workbench with drawers would have probably had several other options available to fix the fuel leak. The team was lucky there was at least a tube of Araldite in their garage workbench.

This allowed the car to do the first couple of shifts with its fuel tank half full. Once the Araldite had dried and the car was able to take on a full load of fuel, the Bugatti quickly moved through the field to take up a place in the top 10. But just as it had established itself ahead of the Larbre RSR Porsche as the leading GT car (not counting the Dauer cars), the Bugatti suffered turbo problems. All four turbos were changed, and one of them even twice for good measure. The team's ambition to finish the race came to an end in the dying laps when the car turned left into the barriers on the Mulsanne straight, a tyre failure was suspected to be the cause. The best of the rest in the GT1 class, proved to be the Dodge Viper RT/10, driven by Rene Arnoux, Justin Bell and Bertrand Balas.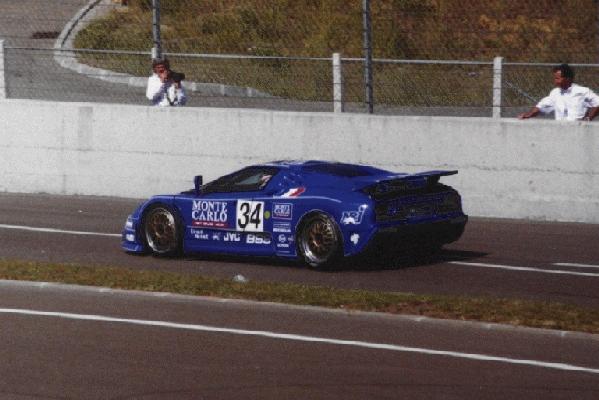 As far as I know no Bugatti entered the 1995 LeMans event (won by a McLaren F1).
---
The American WSC GT races
This is a GT class event, with 24hour and shorter races. The Bugatti competed in the Grand Touring Supreme 1 (GTS-1) class. Not really popular on this side of the ocean!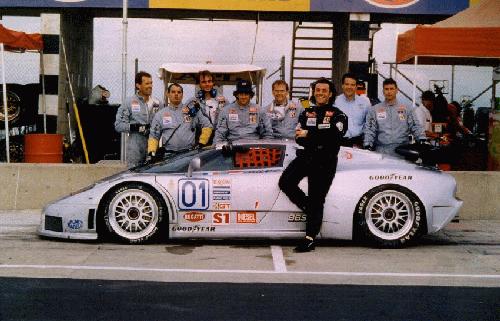 Click on a picture to see an enlargement! Photo: BRET
Gildo Pallanca-Pastor, 28 old, a businessman from Monaco has entered in some races, with the Monaco Racing team. Above he is seen after the Watkins Glen event, where the team got 5th place. At Watkins Glen and Sears Point co-driver was Patrick Tambay! The technical director of the Monaco Racing Team is Daniel Pernoud, formerly of the Ligier F1 team.
Watkins Glen, June 1995
Drivers: Gildo Pallanca-Pastor, Patrick Tambay.
5th place.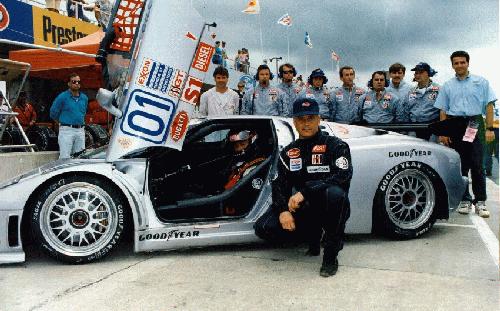 Patrick Tambay, of F1 reputation (114 Grand Prix!) Click on a picture to see an enlargement!
In qualifying Former Formula One and Can-Am driver Patrick Tambay, with Gildo Pallanca-Pastor, rolled out the Bugatti EB110 SS for its North American debut. The GTS-1 class racer was 24th fastest overall, 10th in class.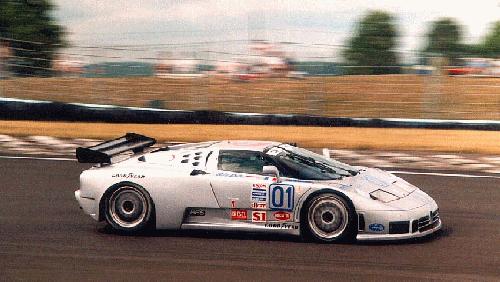 Click on a picture to see an enlargement!
The Bugatti EB110, in its North American debut, finished fifth in the GTS-1 class. Former Formula One driver Patrick Tambay and Gildo Pastor-Pallanca wheeled the car to the checkered flag five laps behind class winner Hoerr.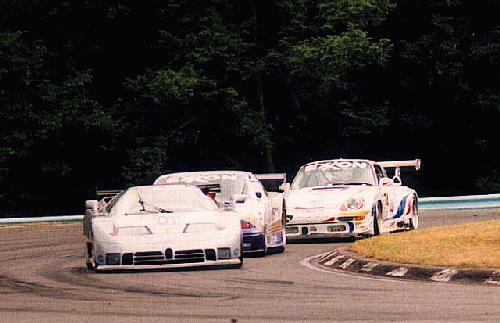 Click on a picture to see an enlargement!
Sears Point, 1995
Drivers: Gildo Pallanca-Pastor.
6th place.

Gildo had much fun, he finished the race. He did two laps with a hole in a tyre, big like a tennis ball and he didn't realised it right away: the car was still going well!!!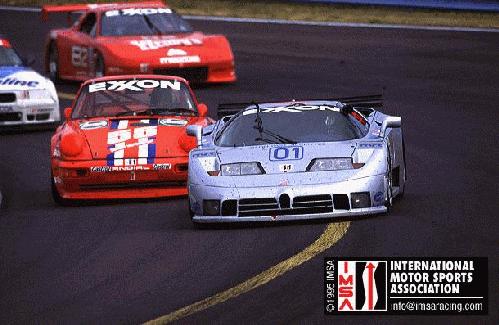 Click on a picture to see an enlargement!
Daytona 24 hours, February 3-4, 1996
Drivers: Gildo Pallanca-Pastor, Derek John Hill, Grouillard.
154 laps completed. Did not finish, good performance in the rain though!

The Bugatti EB110 ss driven by Gildo Pastor Pallanca (Owner), Derek John Hill (son of Phil Hill, who was advisor for the team!) and Olivier Grouillard didn't finish at Daytona, due to mechanical problems and especially Electronic System trouble after 7 hours.

DEREK HILL about the car: -- (After driver change in 7th overall) The car is running great -- I had no problems. When the track started getting wet I really started gaining coming out of the turns (Bugatti uses all-wheel drive). I noticed the Porsches were slipping and sliding and I started gobbling them up coming off the corners. The track conditions are really not that bad. (On being 7th overall.) I had no idea -- That's terrific!

Standings after each hour:

Hour   Overall Pos.  Class Position  Laps behind #1

  1       12              4              0
  2        6              3              -1
  3        7              4              -1
  4       13              6              -5
  5       13              6              -7
  6       20              8             -15 
  8       49             19             -62

However the Test results were more impressive still:

*IMSA TEST SPEEDS -- Jan. 7 

NO    DRIVER/CAR                               TIME                    SPEED
Exxon World SportsCars
16    Andy Wallace/Ford R&S Mk. 3              1:42.210                125.38
4     Wayne Taylor/Olds R&S Mk. 3              1:43.518                123.80
39    Eric van de Poele/Chevy Courage C41      1:44.055                123.16

Exxon Supreme GTS-1
6     Johnny O'Connell/Ford Mustang            1:53.205                113.21
01    Derek Hill/Bugatti EB110                 1:53.247                113.16
90    Tommy Riggins/Oldsmobile Cutlass         1:53.374                113.04

Exxon Supreme GTS-2
07    Dieter Quester/BMW M3                    1:59.176                107.53
06    Pete Halsmer/BMW M3                      1:59.723                107.04
67    Jeff Purner/Porsche 911 RSR              2:00.981                105.93

* Electronic times furnished by IMSA scoring.

---
Le Mans, 1996
Drivers: Gildo Pallanca-Pastor, Patrick Tambay.
Only appeared at practice.

Gildo Pallanca-Pastor, owner of the Monaco Racing team attended at the pre-qualifying for the 1996 Le Mans 24 hours. Without much success, though, as you can see in the standings below. After seven of eight hours the classification looks like this.

.Ps.No.  Driver , Car                                          Lap Time K.P.H.
.-- ---- ----------------------------------------------------- -------- -------

LM GT1 - GRAND TOURISME

.15  33  Bellm/Weaver/Lehto             McLaren BMW F1 GTR LM  3:50.246 212.642
.16  25  Stuck/Boutsen/Wollek           Porsche GT1            3:51.370 211.609
.17  34  Raphanel/Owen Jones            McLaren BMW F1 GTR LM  3:52.015 211.021
.18  39  Lafitte/Soper                  McLaren BMW F1 GTR LM  3:54.342 208.925
.19  26  Wendlinger/Dalmas              Porsche GT1            3:54.572 208.721
.20  30  Nielsen/Bscher/Kox             McLaren BMW F1 GTR LM  3:55.349 208.031
.21  45  Gounon/Bernard/Belmondo        Ferrari F40            3:56.128 207.345
.22  50  Helary/Gache/Aiello            Chrysler Viper GTS-R   3:56.778 206.776
.23  38  Cecotto                        McLaren BMW F1 GTR LM  3:56.781 206.773
.24  29  Wallace/Grouillard             McLaren BMW F1 GTR LM  3:57.091 206.503
.25  28  Lees/Needell                   Lister Jaguar Storm    3:57.482 206.163
.26  52  Gache/Helary/Beretta           Chrysler Viper GTS-R   3:57.704 205.970
.27  44  Della Noce/Olofsson/Rosenblad  Ferrari F40            3:57.740 205.939
.28  49  Cudini/Morton/Sifton           Chrysler Viper GTS-R   4:00.016 203.986
.29  23  Hasemi/Reid                    Nismo Nissan GT-R LM   4:01.272 202.924
.30  24  Hasemi/Fukujama                Nismo Nissan GT-R LM   4:01.960 202.347
.31  48  Cobb/Dismore/Hendricks         Chrysler Viper GTS-R   4:03.426 201.129
.32  27  Chereau/Yver/Malcher           Porsche GT2 EVO        4:04.326 200.388
.33  51  Helary/Gache/Dupuy             Chrysler Viper GTS-R   4:04.328 200.386
.34  46  Ferte/Martini/Fabre            Sard MCBR              4:04.511 200.236
.35  59  Donovan/Nappi/Ota              Ferrari F40            4:04.813 199.989
NQ
.36  37  Konrad/Hermann/Roessler        Porsche GT2 EVO        4:05.129 199.732
.37  55  Jarier/Pareja/Lagniez          Porsche GT2 EVO        4:05.663 199.297
.38  41  Luyendijk/Liggonet/Dickens     McLaren BMW F1 GTR LM  4:06.929 198.276
.39  47  Saldana/de Orleans/Burdell     Porsche GT2 EVO        4:06.985 198.231
.40  32  Robert/Sourd/Daoudi            Renault V6 PRV Spider  4:11.628 194.573
.41  40  Lecuyer/Favre/Clerico          Venturi Prv 600 SLM    4:12.348 194.018
.42  42  Bertaggia/Said                 Callaway C7R           4:19.516 188.659
.43  62  Tambay/Gildo                   Bugatti EB 110         4:26.288 183.861
.44  60  Thyrring/Nissen/Andrews        DeTomaso Ford Pantera  4:27.249 183.200
.45  31  Sourd/Daoudi/Robert            Renault V6 PRV Spider  4:29.665 181.559


Gildo Pallanca-Pastor had his plan of entering the Monaco Racing Team Bugatti EB110 sport competizione in this year's running of the world's most famous endurance contest brought to an abrupt end in the last week in April when ex-F1 pilot Patrick Tambay crashed the car during practice, destroying the carbon fiber tub. Tambay was not injured in the accident. While the damage is repairable, it would upset plans to attempt to break the 24 hour distance record with a second Bugatti. Since the Buggati factory is shuttered, the second car would have to either be reconfigured for Le Mans or used as a source for parts. Neither of these options were acceptable.
---
The World speed record on ice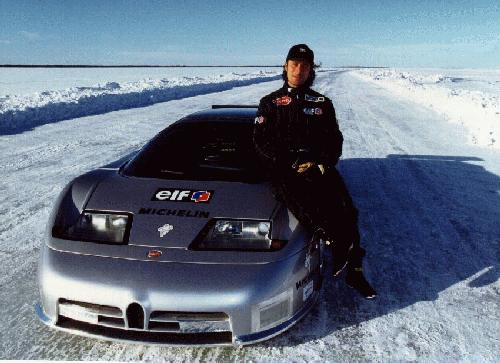 Click on a picture to see an enlargement!
In march 95, Gildo Pallanca-Pastor, 28 old, drove a EB110 SuperSport on the frozen sea in Oulu in Finland. He reached the speed of 296.34 km/h, average speed on 1 km launched. He was using Michelin regular tyres with no spikes. The car was heavier than a normal one to get more motricity. The track was on the frozen sea, 7 km long but not straight because it was not cold enough and there were holes.
Conclusion
So, how do we answer our question? Can the Bugatti stand up to tradition? First I must say that only very little was done to get Bugatti racing, only private teams entered EB110's. In the races where the Bugattis competed, always only ONE Bugatti raced! The results of these single entries are quite impressive, with the first position in class at LeMans 1994, before the accident, and more good results like 5th at Watkins Glen, in the first race for the Monaco Racing team!

However, the Bugatti has the weight penalty of four wheel drive, and thus in the dry will never win from, let's say, a McLaren F1. In the wet though, the situation changes, as was seen in the Daytona 24 hours, before retiring with electrical problems.

Given the few races that were entered, the Bugatti did quite well, and we can say that it's a well engineered machine, with race-potential. But is it a Bugatti?
---
Sources:
Autovisie, 4 maart 1989, mei 1990 (Dutch)
Top Gear, July 1994
Autosport, June 23 1994
Personal communications with BRET, mechanic of the Monaco Racing team.
Mark Davidson
ESPNET Daytona 24 Hours Coverage
Derek John Hill site by Christian F. Gurney
Photographs:
Bret
Stephen Carpenter
Mark Davidson
Santini
---
index
---
Vive La Marque !!