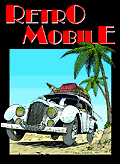 A virtual magazine for a true passion!

Editor: Jaap Horst
---
Volume 9, Issue 2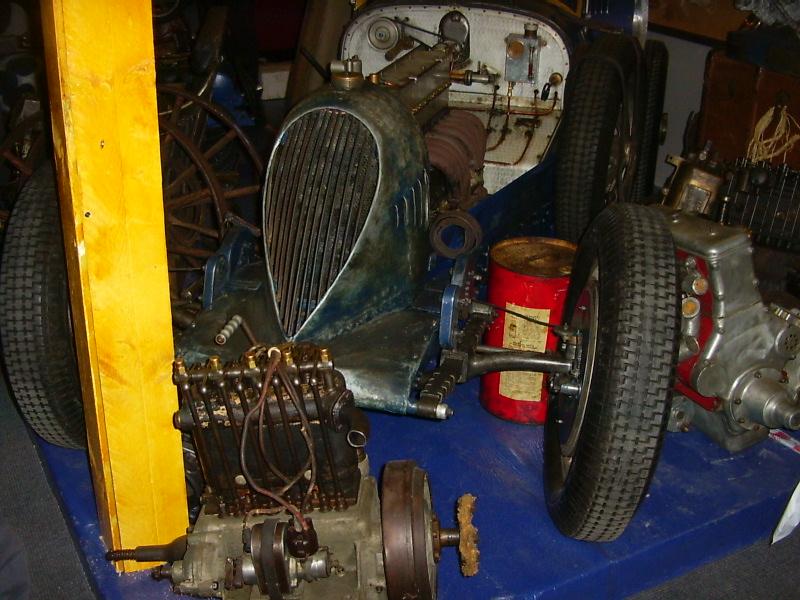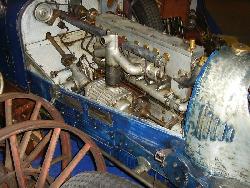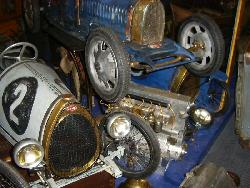 Also to be seen on the opening picture is a very unknown, cowled T35B! Clicking on the upper of the above pictures may give you a clue. Never seen a b/w picture of this one in any of the books? Click on the second picture above. Still no clue? Who makes these small Brescia´s? (as well as the T52).
At the stand of Pur Sang, Mr Anadón told me that the T35B was made by them! (as were the T52 and the sall Brescia´s) The cowling was made to fit, and the car was presented to look "old". So no old b/w picture of this one (only digital ones!)
Retromobile 2004
Jaap Horst
Click on a picture for an enlargement. Big pictures open in a separate window.
This year my usual Retromobile colleague Frans Hofman had set his winter holiday erroneously to coincide with Retromobile, so I went alone on Friday 13th (didn´t bring any bad luck!) of February to Paris, driving off at 6.00, mainly to avoid Antwerp traffic Jams. This day is probably the only one in the year that one can stop for gas in the middle of France, and meet a Bugatti-friend, who is there for the same purpose.
Retromobile theme this year were the Citroën equipped Afrika expeditions, with about six cars on display (mainly half-tracks). Apart from this there was a very special, elaborate Rolls Royce Phantom, including a painted ceiling.
As for Bugattis at Retromobile: There was a massive amount of Bugattis, one seemed to be bumping into one at every second corner. Most Bugattis were of course on the Christie´s stand (T15, T29/30 Indy, T37, T49, T51 (mostly replica), T55 and Peugeot Bébé), but there were a lot of Bugattis on all sorts of stands, see the picture overview below. What we noted were furthermore: T13 (Bruno Vendiesse), T13 Brescia (Mulhouse Festival), T30 (Chistoph Grohe), T35 (Rotary Club), T35 (Cowled, replica), T37, T43 (Pur Sang, Replica), T51 (French Bugatti Club), various T52 (probably also mostly replica´s), T55 (the same one as was auctioned last year), T57 Ventoux (Bruno Vendiesse/Jaap Braam Ruben), T57 Gangloff Cabriolet.
On the down side, a lot of these cars have been on shows before, even in last year´s retromobile. These were eg. the blue T55, Grohe´s T30 as well as the T29/30, the t13 was on show in Maastricht, as was the Ventoux.
The French Bugatti Club, which as always is a meeting point for Bugattistes, showed a "regular" T51, not as many rare items as last year. On the Argentinian Pur Sang stand we saw a complete T43. Mr Anadón informed me that his company has grown from 15 to 60 people, in 3 years! They produced 60! T35B´s , and 3 T43´s until now. Production of the T35B will be stopped, and they have started developing a T55.
As for Bugattis there was of course a lot more to be found at Retromobile this year, including cheap and expensive books, the new book on the T57s by Bernhard Simon and Julius Kruta was no ready, and sold on a stand they shared with Paul Bouvot (paintings) and Michael Ulrich (Automotive sculptures). On the French Bugatti Club Stand the BIG book on the T57s by Pierre Yves Laugier was presented, and one could subscribe to this book, as well as a book by Les Matthews and one by Miranda Seymour (more about all of these books later in the Bugatti Page). On one stand an original hand drawing by Ettore Bugatti could be bought, for 600 Euro.
There were also a lot of interesting miniatures and art work of course, a nice miniature of a "barn find" Ventoux in 1:8 scale, including a leash for the dog that houses in the car!

Auction results (prices include the buyer's premium):
Only two of the Christie´s Bugattis were sold:
T49: 173,250 Euro (just above the lower estimate)
T29/30: 349,250 Euro (estimate: 320,000 - 360,000 )
All others, including the T15, T37, T49, T51, T55 and Peugeot did not reach their reserve.
At about a quarter to 8 I left Paris again, hoping in vain that by then any traffic jams on the périférique would have vanished. Thinking of all the Bugattis that were on show, all the nice people I met and which I had interesting conservations, new plans for the Bugatti Revue (this article), and new ventures for the Bugatti Aircraft Associatoin.
Finally you´ll have to excuse me for the quality of some of the pictures. This was a new Digital camera, and I hadn´t figured out exactly what was the best way to take pictures! A little bit could be done about this digitally, but not all. Anyhow, Enjoy the small tour!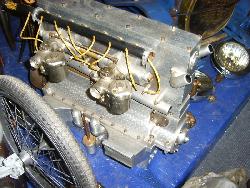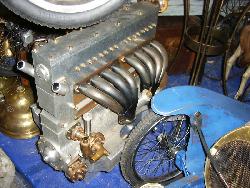 On the same stand as the cowled T35B was this engine, which had quite some people puzzled. Is this a 8 cylinder version of the T68? In fact it´s a 1/2 scale model of a T44 Bugatti engine!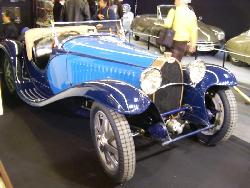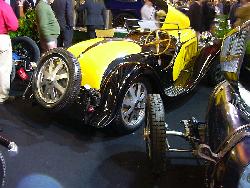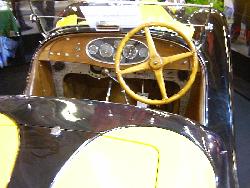 The T55 which was on offer last year at Christie´s, was now on a stand selling leatherwear and goggles. Below is shown this year´s T55 (55238)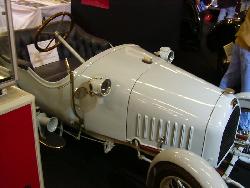 Contemporary with the T13 and T15 , the Bugatti designed Beugeot Bébé.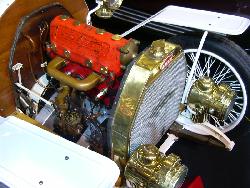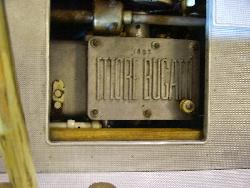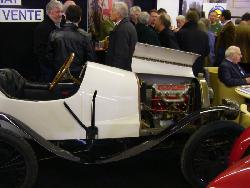 Top two pictures: The T15 (446) engine and gearbox. Imagine somebody who only has a car-factory for a few years, and already puts his signature on every major part. Behind the gearbox is a transmission brake, which can be just seen in the picture. Below: The T13 on Bruno Vendiesse´s stand.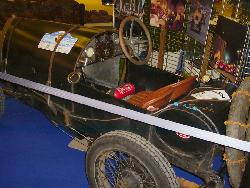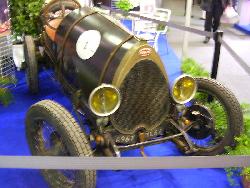 Brescia on the stand of the Mulhouse Festival. Is this an original one? Nice detail is the petrol gauge on the tank.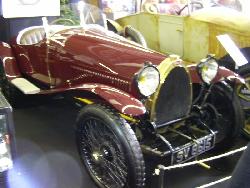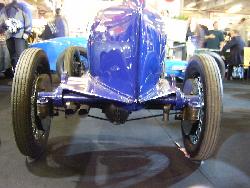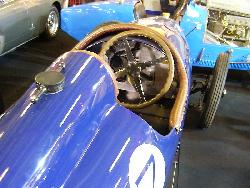 Top: the T30 (On the stand of Christoph Grohe the new edition of 4008, the ex U.Hucke Strassbourg car, now with a body similar to the ex Junek 22/30). Below the T 29/30 Indy. Note the offset single - seater bodywork.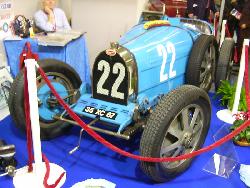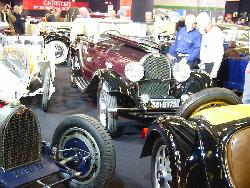 Top: T35, below: T49 Gangloff (49506) on the Christie´s stand.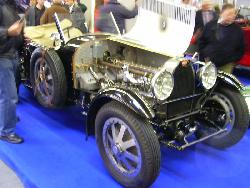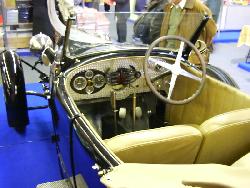 Pur Sang of Argentina now officially showed their T43, which looks quite convincing actually.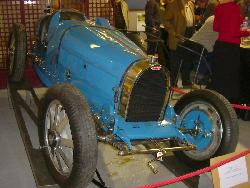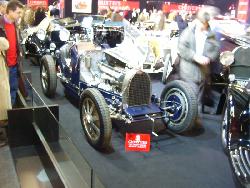 Top: T51 at the French Bugatti Club stand, and below the T51 (4776) "using some original parts"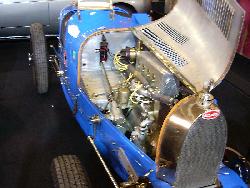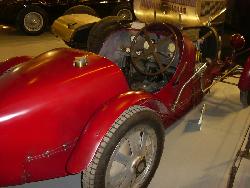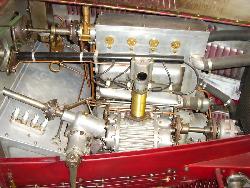 T37 (37292) at Christie´s, and a supercharged T37A below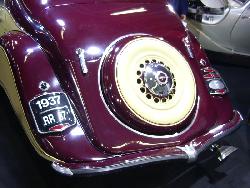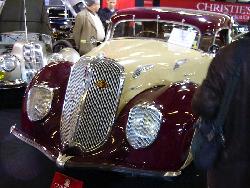 One of my favourites: The Panhard Dynamique. They don´t come more "retro" than this one !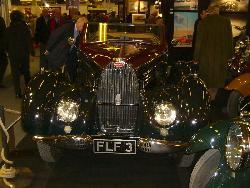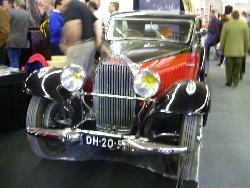 Two T57´s this year, two more than last! Top a Gangloff Cabriolet, below a Ventoux.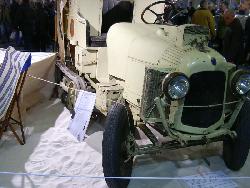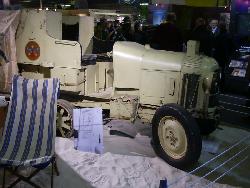 Two views of one of the Citroën Half Track.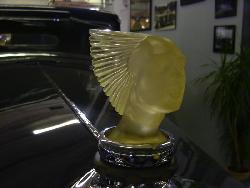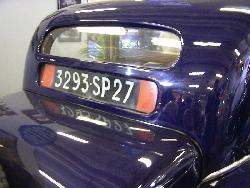 A Delage, with a very nice Lalique radiator mascotte, and redefining the term "split windscreen"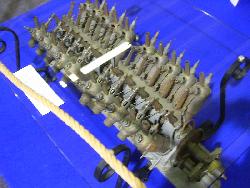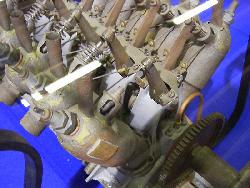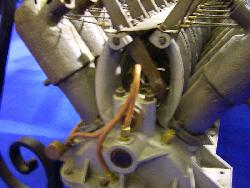 Three views of the Biggest mistery at Retromobile. A V20, with one camshaft laying within the V, and 20 very small, separate cylinders, which are all secured using 2 "spokes". Seen the small diameter of these cylinders, it can´t be more than 4 liters displacement in total. All the construction is considerably lightweight, indicating that it is probably an airplane engine. As it uses automatic inlet valves, I presume it to be pre WW1. The entire construction is not more than 1 m long! Any clues as to the manufacturer?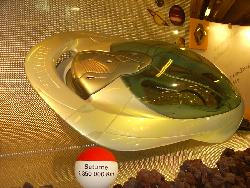 I doubt it if there was ever a concept car more futuristic than this one. This Renault 4002 (for the same model year), doesn´t even have wheels!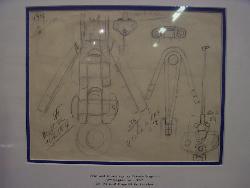 An original Ettore Bugatti drawing, dated September 15, 1937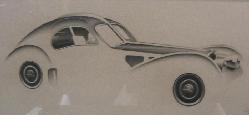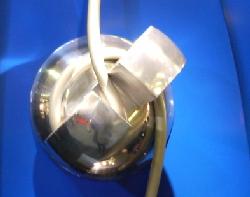 Top: a nice drawing of an Atlantic. Below is a detail picture of a Bugatti bodyscrew. Or isn´t it? Click on the picture to discover that it is in fact a one meter high sculpture, to be displayed on your wall. The screw is about 30cm diameter!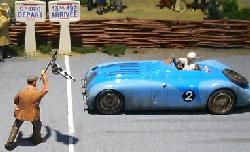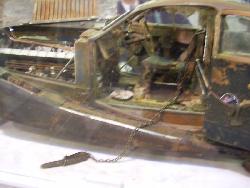 Two original miniatures: Finish of the T57G at Le Mans 1937 in 1:43 scale, and a "Barn find" Ventoux in 1:8. (do not click on this last picture, as it doesn´t come any bigger!)
---
Back to the Bugatti revue
---
Vive La Marque !!