A virtual magazine for a true passion!

Editor: Jaap Horst
---
Volume 8, Issue 1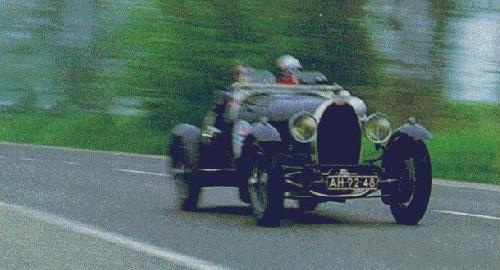 History of a T44
Cees Jansen and Kathy Tucker Revised edition, January 26, 2004

Introduction

Very few Bugattis have always been in the same family. Besides the odd exception, most cars have changed ownership several times, and very often the complete provenance is unknown. This, however, does not apply to Bugatti 44266: most owners, as well as the whole history of the car are known. It is a 35 wannabe, a Grand Prix body, with full road gear created in the thirties. After having bought the car, I wondered who these previous 13 owners might have been, what was it that had attracted them to this particular car, and what had happened to them.

Creation, sale and first owner, Maurice Sowman, (1927- 1931)

Chassis No. 44266 fitted with engine No.21, was completed in chassis form in September 1927 before being invoiced by the factory to Sorel on Nov 4, 1927 for shipment on Nov 10 to their London Agent Jack Lemon Burton, residing on Brixton road, London and Priced at 29900 FF.

Harrington's of Brighton then built the coach, which was a black four-door four-seater cabriolet.
The car was unsold for one year, when the first owner, Maurice Sowman, bought it in June 1929 in London and gave it its first license plate, UV 28. During the following two years he used it regularly and covered 18.000 miles (almost 30.000 km), after which he sold the car to Kenneth Bear.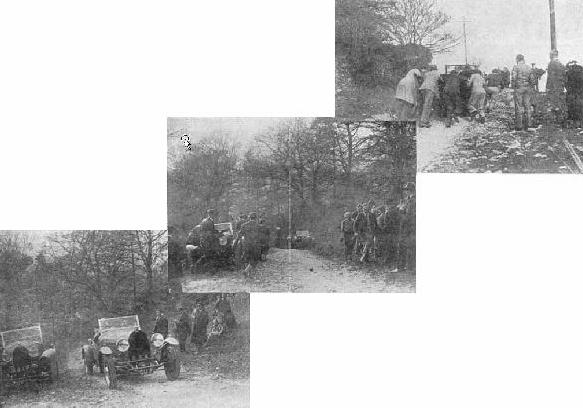 Pics: Left 44266 with difficulties during the Lewes speed trial, October 21, 1933. Called 'ten push power tourer', pushed by bystanders. In spite of this Kenneth Bear had a first place in class B. Here the car is still a four seater (Bugantics, 1933; 2: 2:8)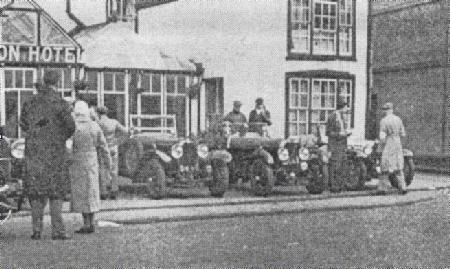 Pic: Start at Bala of the Welsh trial in 1935. Bugatti 44266 is the third car from the right. (Bugantics 1935; 4; 6: 5)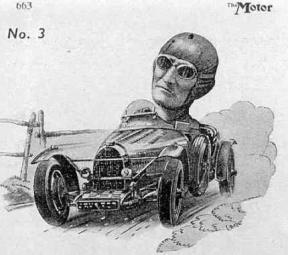 Fig: Sketch of Kenneth Bear in 'The Motor' in January 1948, shortly before his accidental death in Bugatti 59121
Kenneth Bear (1931- 1938)
Kenneth Bear was just 24 years of age, when he bought the car second-hand in 1931. He made his living in the insurance business that he had entered as an office boy at the age of 19, and later was to become a 'principal'. He had clearly caught the 'Bugitis' virus, an incurable disease that would ultimately kill him. 44266 was his fourth Bugatti, and he was co-founder of the Bugatti Owners Club (BOC), member no 6. He has owned a large number of Bugattis, none of which he bought when new. He usually bought them in bits, from people who despaired of putting the 'bits' together again. According to an article in 'The Motor' in 1948, his rule in those times used to be "£ 1.- for the makings in a box, £ 5- for a non- runner and £ 10.- for a runner". He was a very enthusiastic organizer and participant of Bugatti rallies. With this car he enjoyed a number of victories, such as the Monte Honiton Carlo Rally in 1933, the Victor Ludorum Challenge Cup (twice) of the BOC (the best aggregate performance for the year) in 1935 and 1936, the Chalfort and Joel Park Hill climbs, Lewes speed trial and many others. (The Prescott meeting did not yet exist: this first saw the light in 1938.)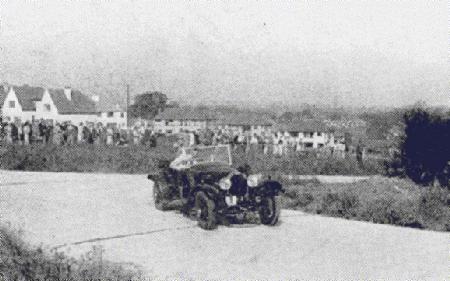 Pic: The car at Northwood in 1936. The chassis has been shortened and the rear doors have been removed. However the boat tail has not been made yet, and Kenneth Bear didn't really like the looks of it. (Bugantics 1936; 5; 1:20)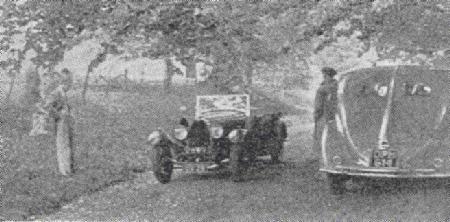 Fig: Bear had the fastest acceleration of the day at the Lewes speed trial, August 15, 1936, commanding the first place once more. (Bugantics 1936; 5; 5: 14)
The years 1935 and 1936 were his best; the car had a good karma for him, in spite of the absence of a compressor. He enlarged the engine though from 2997 to 3257 cc by replacing the cylinder blocks with those of a 49, increasing the power from 90 hp to 100 hp, and he changed the rear differential ratio from 12 x 50 to 14 x 54. In addition he removed the rear doors and seat and shortened the chassis about 18 Inch (50 cm) in June 1935, thereby making the car 600 Lbs lighter. The car became considerably faster by these modifications. It had a documented acceleration from 0 – 60 Mph in 9,5 seconds, and a top speed of 95 Mph, almost identical to the figures achieved by the 43, which of course had a compressor.
With this configuration he experienced one victory after the other. For instance during the Monte Honiton- Carlo Rally on May 17, 1935, he had beaten two 43's and a 55 on his way to victory.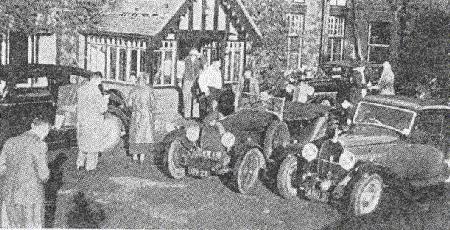 Pic: The start of the Welsh trial in August 1936 at the lake Vrynwy hotel where Bear became first in the 'unlimited sports class'. In the middle 44266 (Bugantics 1936; 5; 6:5)
However he still felt the looks of the car did not match its performance, so in the year 1936 he had the GP style boat-tail made. However the latter cosmetic modifications have not resulted in further victories, except for the fastest unsupercharged car at the Shelsley-Walsh meeting on June 21, 1937. According to his mechanic, Mr. E.A. Stafford East he sold the car to Albert Raven in 1938.
From an onlookers point of view, a sad note regarding Kenneth Bear stemmed from his love of power (horse power that is). He first drove the Type 50 regulation Le Mans tourer, (50143), with which he had a number of successes, and then he went on to the even more powerful Type 59 (59121). However this became his ultimate fate. During the practice run for the Jersey International Road Race, on the 27th of April 1947, he had a fatal accident, in the same car that had killed the Earl of Grafton eleven years earlier. Kenneth Bear left behind a wife and two daughters aged 10 and 12. The Le Mans car has recently been auctioned but remained unsold in the UK, and the 59 is still owned by mr Stafford East.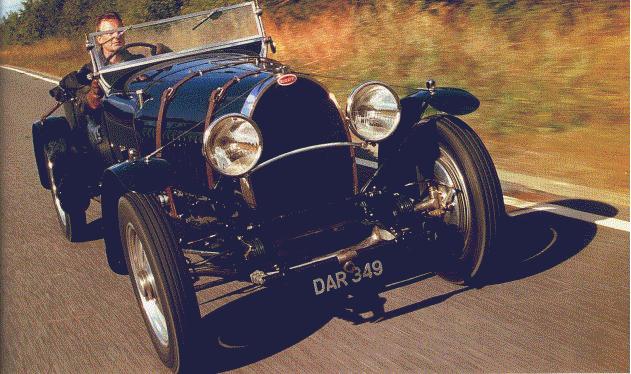 Pic: Kenneth Bear's next car, Bugatti 50143 Le Mans Tourer that has recently been auctioned, but remained unsold with a maximum bid of £ 340.000 (560.000 Euro incl)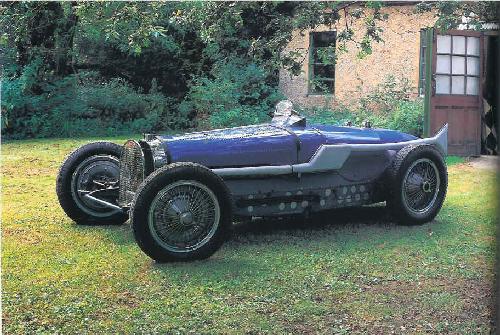 Pic: Bugatti 59121 in which the Earl of Grafton died in 1937, that was later also the fate in the same car of Kenneth Bear in 1948 at 41 years of age. The car is now still owned by Kenneth Bear's mechanic, mr. E.A. Stafford- East.
Albert Raven (1938- 1940)
Next there was some confusion as far as ownership is concerned. According to various sources- one of which being Kenneth Bear's mechanic, E.A. Stafford- East- he sold the car to Albert Raven, an enthusiastic BOC member as well. The confusion arose as Albert Raven later acquired a 37 with a 44 engine with which he has been racing, and which he converted to a single seater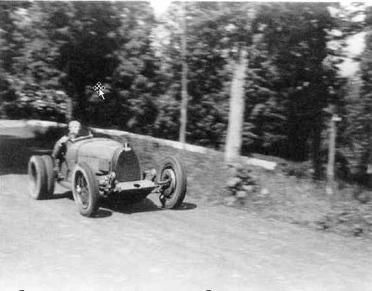 Pictures: Kenneth Bear racing the 37 chassis that later was also bought by Albert Raven and converted to a single seater and that he used for sprint work. It had a 44 engine and a compressor, and it has been confused with 44266 for a while by some. However mr EA Stafford East has declared that both cars were the property of both people.
John Wyer (1940- 1945)
In his turn Albert Raven sold the car for £ 50. - to the young John Wyer, who later rose to fame, first to become the Aston Martin racing team manager, subsequently head of JW Automotive, dominating Le Mans for years, leading the Ford GT 40 to victories at the 24 hours of Le Mans from 1966 to 1969 and afterwards doing the same with the Gulf Porsche Racing team with the Porsche 917 in the early seventies. However during the war severe restrictions were in place, such as a ban on car racing.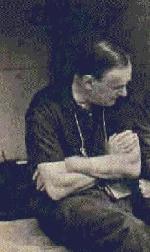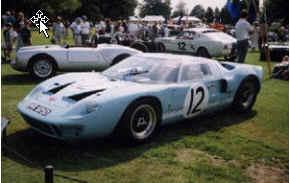 Pics: left: John Wyer in later years during one of the races. Right: Ford GT 40, the car that was made successful by John Wyer's team: the American Car that won the 24 hours of Le mans breaking the Ferrari dominance, and below the Porsche 917 at Le Mans winning as well in 1971.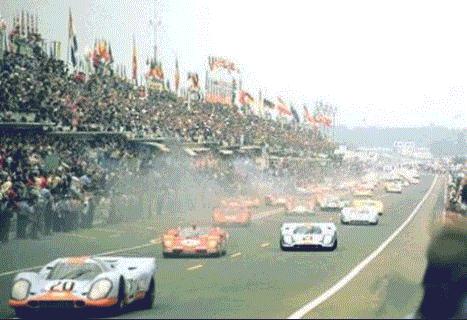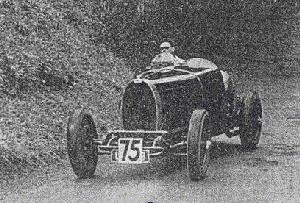 Pic: Peter Clark leaving the Esses at the Shelsley Walsh Meeting of June 1947 (Photo by Guy Griffiths) (Motor Sport, The official Journal of the British Racing Drivers Club, 1948; Feb p 33)
Peter Clark (1945- 1949)
Just after the war, in 1945, John Wyer exchanged the 44 for a H.R.G. which interestingly he later sold for £ 550. -. The new owner of 44266 became Peter Clark, an amateur racer, who begun driving rallies again. He showed up at the Shelsley Walsh Hill Climb, on the 21st of June 1947. During the practice run he made an excellent 46,13 seconds, but during the race as a result of the rain it was 49,15 sec. The car still had its original license plate UV 28, and still had its original black color.


Pic: Advertisement of Monaco of Watford circa 1949 (location unknown)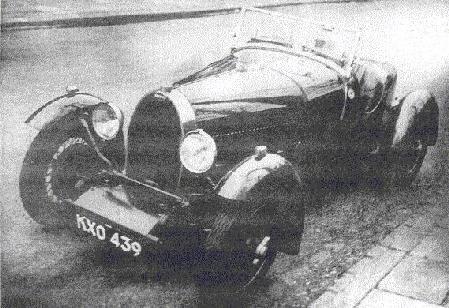 Pic: 44266 in 1950 with its new license plate. It also has the new Lucas 1130 indicator lights, possibly obligatory due to the new registration (?)
Hutton (1949- 1954)
In 1949, the firm Monaco of Watford sold the car to a Mr Hutton. He decided, for financial reasons, to apply for a new registration and license plate, KXO 439.
Around 1950 the car was serviced by Lack Lemon Burton, then still at Brixton road, London (later he moved to Lonsdale Road).
Hutton drove the car for 5 years and then sold the car to an American buyer.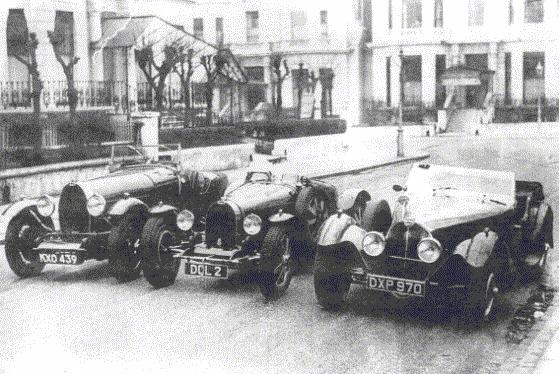 Pic: Three Bugattis in a row, nicely depicting the evolution in styles: Left 44266, in the middle a 35B with a 51 radiator (4963), which now for all intents and purposes does not exist anymore (although the license plate is on another 35) and on the right a 57 SC (57512) with a Corsica body, outside the premises of Bugatti dealer Jack Lemon Burton on Cavendish road in London. The 57 has gone to the USA, the coach has been removed temporarily, but has recently been reunited during a restoration in California in 1995. (Information due to Sandy Leith, ABC registrar)
The United States: Goodwin, Callender and Leavitt (1954- 1979)
Goodwin then exported the car to the US. From around 1962 to 1970 is was in the possession of Rawley S Callender, Santa Barbara, California, and from around 1970 to 1979 of John Leavitt in New York. According to the registrar of the American Bugatti Club, Sandy Leith, none of these were members of the Club, and it is said that the car has not or hardly been driven during that time. I have not been able to get information from these owners so far. Strangely enough much of the information in this article comes from the internet, but these people seem to have vanished. Help from anybody out there would be welcome!
Back to the UK: Dan Margulies (1979)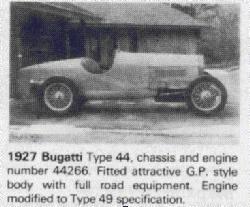 Photo: advertisement of Dan Margulies in 'Thoroughbred and Classic Cars' (Oct 1979, pag 85). The car is now light blue.
The classic car trader Dan Margulies imported the car again into the United Kingdom and advertised it amongst others in 'Thoroughbred and Classic Cars ', (In the UK simply called 'Classic Cars') October 1979. The car had been painted light blue by then.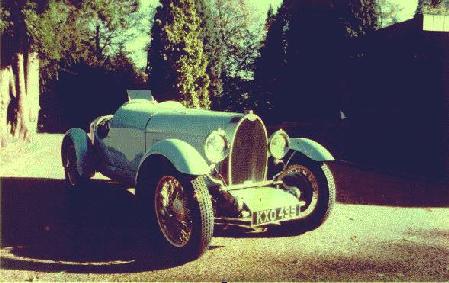 Pic: 44266 after Eric Stewart bought it in 1979. The Marchal lamps are replaced by Lucas inserts; the Lucas 1130 side lamps are off again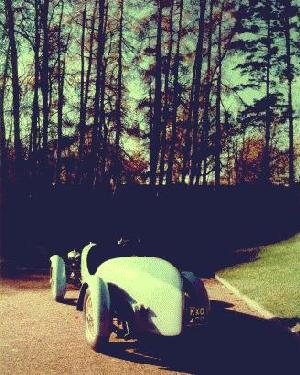 Pic: Rear: The Lucas D lamps had not been mounted yet and there is no front windscreen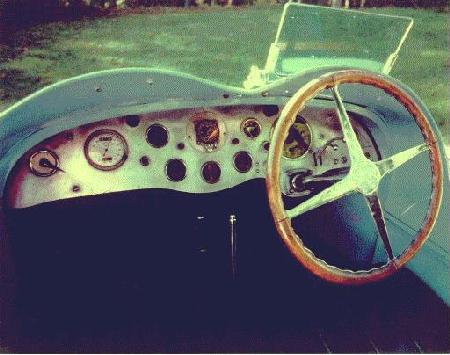 Pic: Dashboard and interior: True simplicity and functionality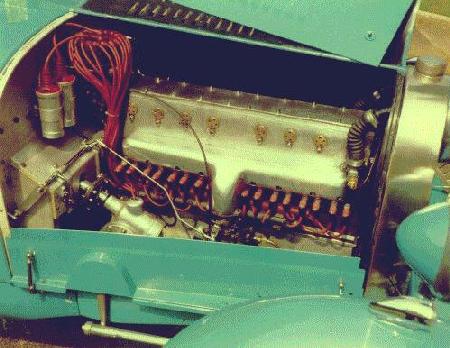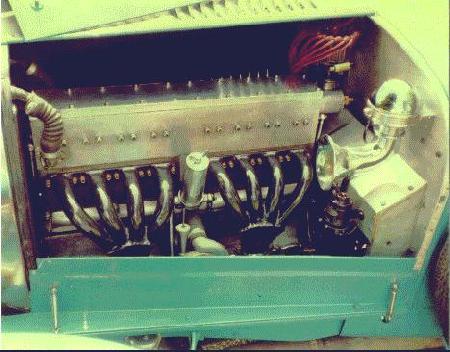 Pics: Engine: The original Schebler carburettor is back (it also has had four Solex carburettors) and a 16 plug Auto- Lite distributor. The Lucas side lamps are there again. Right side: the exhaust pipes have been enamelled. (Photos Eric Stewart)
It was then that it was bought by the British pop-musician Eric Stewart, for approximately £ 20.000. -
Pic: Eric Stewart busy making money for the restoration of his 44 during the 'Ten out of Ten' Tour of the pop group 10cc in 1981 (all pictures are from Eric's Website, with permission)
Eric Stewart (1979- 1982)
Eric Stewart was representative of The British Invasion in pop music, as a guitarist part of the pop group 'Wayne Fontana and the Mindbenders' in the sixties. One of their biggest hits was 'The game of love' in 1965 in which they explained how to seduce the female counterpart: 'The purpose of a woman is to love a man, so come on baby let's play- the game of love'. After they split up from 'Wayne' they went on as 'the Mindbenders'. One of their best known hits was: 'A groovy kind of love', also in 1965.
After this he was co-founder of the group '10cc'.Their best known song was 'I'm not in love' (1975) in which he desperately but unsuccessfully tries to convince the audience of the opposite, and which made some women realize that men can also be sensitive. Later- with new members in the group- they had their hit 'The things we do for love' of which an amazing three million copies were sold. So he did well, the royalties for the theme 'love' poured in, and he could fulfill his boys dream buying the Bugatti 44266 in 1979.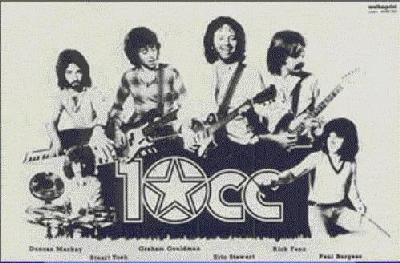 Pic right: Old 10 cc poster of Fans1981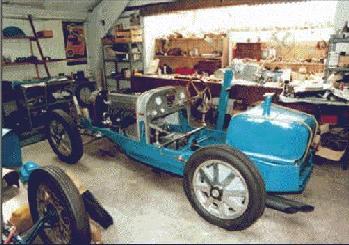 Pic: Bugatti 35C during restoration in Eric's workshop
In that year, 1979 he experienced a severe car crash, which did not keep him from ordering a complete nuts-and-bolts frame-up restoration in 1980 at Bassett Down Engineering, Swindon, Wiltshire, UK, by Nigel Arnold Foster. The car stayed there for 18 months, from June 1980 to December 1981, and in total more than 2100 professional hours were spent. Everything was restored except the engine. 10cc did well in those days, and there were performances everywhere. However shortly afterwards, in 1983, the group split up. Eric performed regularly thereafter with Paul McCartney in 'Wings', and in the beginning of the nineties 10cc had a short-lived come back.
Eric is fond of vintage sports and racing cars, and he has had several vintage racing cars such as an Alfa Romeo 8C from 1932, a Bugatti 35C, and a Ferrari 625 Grand Prix from 1956, all of which can be seen on his web-site (www.ericstewart.co.uk)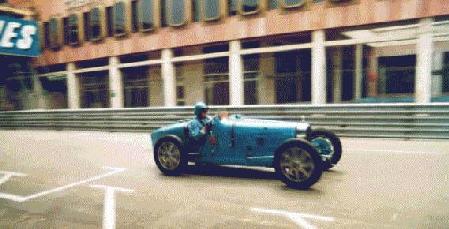 Pic: Eric Stewart driving the 35C during a race on the circuit of Monaco
After the restoration he never drove the Bugatti 44, as he was able to buy a supercharged 35C (35 4893), which was much faster. With this car he regularly participated in various antique car races. This car has now been the property of the family Albada Jelgersma for many years.
Fouad and Julian Majzub (1982-1999)
Fouad Majzub from Persia was- next to the Shah- considered as one of the richest men in that country. In addition he was a staunch antique car collector, and he had a collection of about 400 cars, of which 300 in Persia, and 100 in England. After the revolution in February 1979 he had lost all his cars in Iran, but he could keep his British stock, which he expanded in 1982 with the sale of 44266 for £ 20.000. - from Eric. The new registration had now become 441 BGP, and it was still blue. However on the day he bought the car and drove it home, the engine seized as a result of a big-end failure, so that he was forced to have it revised. This was done at Brineton Engineering, which spent 230 professional hours for a complete engine revision. However the engine still did not run properly, and the car has never driven anymore during his possession. After his decease on 28 Jan 1995, the complete collection went to his son Julian, who had the car being sprayed black again and had the upholstery being renewed by the 'Horne recovery service'. He put the car up for sale at Ivan Dutton's place, stipulating that the engine did not run properly. On Nov 23, 1999 Bert Janssens bought the car and commissioned Ivan Dutton to make it driveable.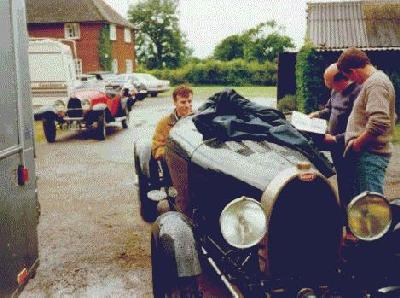 Pic: 44266 in June 1999 at Ivan Dutton's premises (second from the right) On the wheel is Frans Thijs who comes to have a look at the car with Bert Janssens)
Bert Janssens (1999- 2001)
Bert Janssens is Belgian, descendant from the family that made fame with 't Ijsboerke'. They make ice cream for the local market that rivals 'Ben and Jerry's and 'Haagen-Dazs'. His father Staf Janssens started the business in 1935 with a little ice cream car and a bicycle and his imperia, which was based on house-to-house delivery, grew to a staff of 340 employees.
After his death Staf's two sons ran the company, but during a difficult period it was taken over by the NPM (Nationale Portefeuille Maatschappij) of the Wallonian financer 'Frère' in 1997. Bert received a large sum of money, with the stipulation that he would refrain from making ice cream for a number of years. Part of his newly acquired wealth was spent on vintage cars, amongst which were a number of Bugattis. He used 44266 to attend meetings such as the August 2000 meeting at Prescott.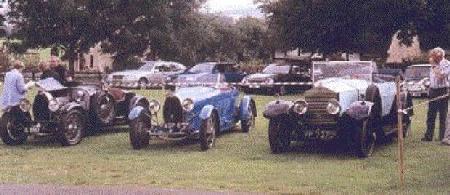 Pic: 44266 (left) next to a 43 during the August 2000 Meeting at Prescott, England.
Pic: The 'Godfather' of 't Ijsboerke', Staf Janssens with his first ice cream car and his mode of transportation.
At the sale he had stipulated to Ivan Dutton a number of modifications in order to make the car fit for frequent use. The Auto-Lite 16 outlet distributor was changed to a Bosch 8 plug distributor; the carburetors were changed to a twin SU system. He had the springs and other parts covered with nickel, a new engine revision was carried out, new leather was installed to make the car usable for his wife, including an extra gadget to place the driving seat more forward, and several other modifications were made such as an overdrive and a temporary brake servo. However the brake servo did not fulfill as expected and that non- standard item was later removed again. The registration now has become SL 9983
Bert Janssens was called 'Bugatti Bert' by some of his friends, but he has not kept the cars for long: 2 years later he sold all of them again. He probably realized that part of the attraction of longing for something lies in not having it. As soon as one possesses the object its attractiveness decreases, as it merely turns into just material wealth. After the contractual period was over he took up his old profession and went into the 'ice' business again.
Kees Jansen (2001- present)
For me the acquisition of 44266 had all the hallmarks of an impulse-buy. I had gone to a garage to have a look at an MG PB, but I drove out with the Bugatti. The car appealed to me right from the start, although I wasn't aware of the fact that many Pur Sang VLM Bugattists consider the 44 as the 'Volkswagen' of Bugatti, that should refrain from trying to imitate the famous racing cars. This one might be considered to be the worst: it can be seen as a '35 wannabe'. Nevertheless it drives wonderful, in comparison to the real roller bearing racers it is quiet and comfortable and even after 1000 miles in Italy, one steps out of the car without any sign of exhaustion. In addition, what is now considered almost blasphemy (putting a new body on an old frame) people in the thirties didn't care less: new bodies were made all the time by coachbuilders, starting with the first one.
Mille Miglia 2002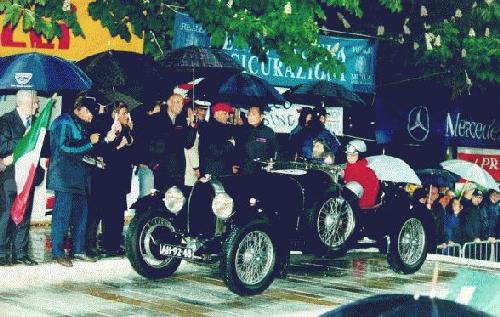 Pic: Start of the Mille Miglia 2002 team Jansen- Franken
After having bought the car I decided to put it to use, and drive it again. Many of the beautifully restored cars you see across the ocean are certainly destined not to drive anymore, merely to be shown. I thus applied for the Mille Miglia 2002. Beforehand we had some practice with former Formula I driver Gijs van Lennep at the circuit of Lelystad, with sport cars from the sixties. It was good to see that it could keep up remarkably well with most of these.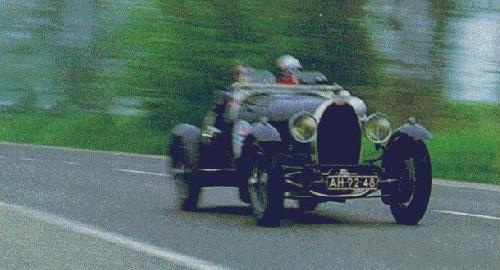 Pic: In full speed during the Mille Miglia 2002 (Photo: Auto Week, 2002; 13; 22: 38)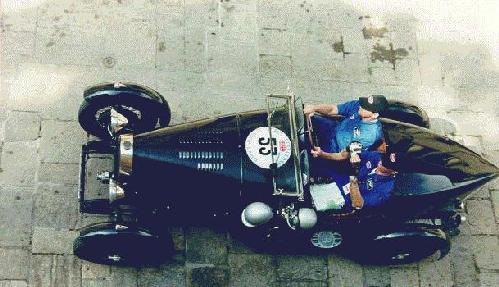 Pic: During the 'race' one is allowed in beautiful city centers, normally not open to traffic.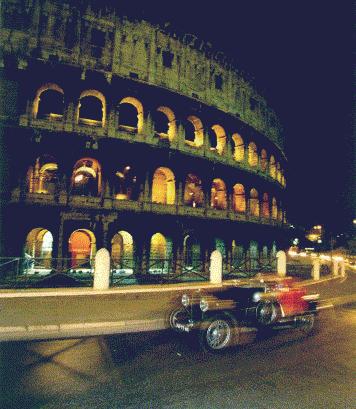 Pic: No time to stop for the Colosseum.
The Mille Miglia, as all who have driven it confirm, was an absolute experience. Although speed is not an issue anymore, the atmosphere is unimaginable, one that can only exist in Italy. The Bugatti Factory sponsored the team, 19 cars in total. Michel's daughter Caroline drove her husbands 35 with a woman friend, and the team of the very amiable Malcolm Gentry provided technical support.
Eventually all Bugattis arrived in time, which was unique since this has never happened before in the Mile Miglia. We finished as the third Dutch team, no122 over all. It may be that nobody can beat the Italians, but driving this event is as much an experience as competing in it. Cars like this need to be driven every now and then, and should not be destined to end up as just display models
Copyright Cees Jansen, 2004
---
Back to the Bugatti revue

Successful lawyers can make a great deal of money and often buy luxurious cars or sportscars. A DUI lawyer Cincinnati probably can't afford to buy a Bugatti, but he should be able to buy a nice Lexus or BMW.
---
Vive La Marque !!